It's hard to believe that Halloween is nearly here. October 31st is just a week away, and if you're like me, you're right in the middle of perfecting those decorations and costumes. To help you, I've gathered together my top Halloween hints below, in order of popularity, as well as a bonus new Halloween hint.
Looking for more? Here's a bonus Halloween hint: Save all that Halloween art your child brings home, or at least a few special pieces. Why? The works make great, free Halloween decorations. I've saved a number of Halloween projects my children have made over the years, and now I hang them in our family room every October as we get in the Halloween spirit. See the picture below.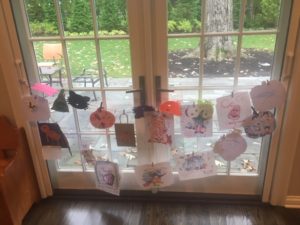 My kids seem to enjoy looking at the pieces and figuring out who made what and when. What's your best Halloween hint? Share it below, and Happy Halloween.
Follow Hint Mama on Facebook and Twitter, and read more about her and her disclosures.