There's no shortage of bath toys you can buy for entertaining your little ones during bath time, but that doesn't mean you have to.
I've found that many regular items you probably already have around your house, or can buy on the cheap, work just as well during tub-time play. Today's hint covers five of these outside-the-box "bath toys."
Paintbrushes. I discovered unused paintbrushes work great as bath toys one evening when I was trying to add a little excitement to my children's regular old bath routine, and kill some witching hour time. I had bought a bulk pack of kids' paintbrushes and gave my children a couple of the unused ones to play with in the bath. They seemed to have a great time painting the shower walls with regular soap and special soap "paint," and now the brushes are regulars in our bath toy rotation. I'd be wary, though, of bringing used paintbrushes into the tub.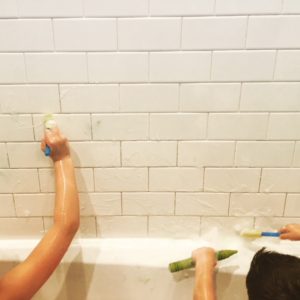 Sponges. Another outside-the-box item that my kids have enjoyed playing with in the bath: unused sponges. These include regular sponges, sponge brushes and the sponge creatures that grow from little capsules (like the Magic Grow ones). My kids love watching the capsules grow into surprise animals and then play with them after; the capsule sponge creatures also make easy-to-pack travel bath toys.

Travel-sized shampoo, conditioner and cleanser bottles. My 3-year-old son enjoys filling these bottles with water from the tub, closing them, opening them, pouring the water out, and then repeating the whole process. I figure it's good play for developing his fine-motor skills. Another bonus of the containers: they can serve their intended purpose when we travel.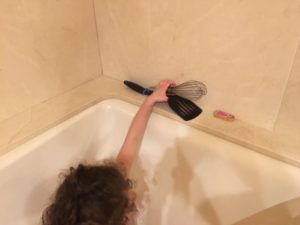 Kitchen tools. Kid-safe kitchen tools you don't plan to use in the kitchen anymore can provide fun bath entertainment. I'm a bit embarrassed to admit that this tip came to me during a trip a few years ago. I didn't bring bath toys, so I took some tools from the rental condo kitchen and gave them to my children in the bath. We did make sure to clean the tools after, but I'm sorry to all future people who stayed at that rental.
Regular toys. The final tip comes from my kids themselves, who often bring their regular toys (think Barbies, dinosaurs, cars. . .) into the bath. In fact, our bath toy bin is now overflowing with these "bath toys."
What outside-the-box bath toys did I miss? What are your child's favorite nontraditional bath toys? Share your thoughts below.