I'm always adding to our cookie cutter collection and just recently picked up a fun set of Valentine's Day cookie cutters.
I don't consider these purchases a waste of money. Why? In our house, we use cookie cutters for much more than just cookies, a trick for making mealtime fun that is today's hint.
We've used them to turn turkey sandwiches into butterflies. See the image below.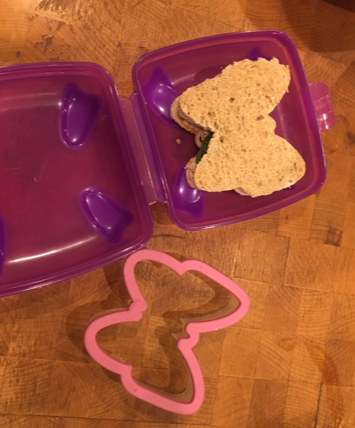 And we've used them to make turtle and flower pizzas, cutting pre-made crust into fun shapes before putting our make-your-own pizzas into the oven. See our pizza making in process below.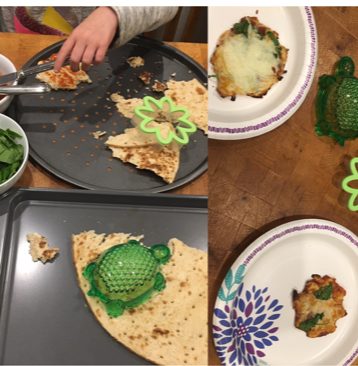 Cookie-making tools can also be used on cooked pancakes and quesadillas, just a few of the many other foods they can cut beyond just cookie dough. The fun-shaped food can encourage little ones to eat, while also involving them in a cooking activity.
And cookie cutters can come in handy for crafts and coloring too; for instance, they make great shapes to trace. So, next time you're at the store and some cute cookie cutters are calling your name, buy them guilt-free.
How have you used cookie cutters outside of the cookie-making process? Share your tricks below, and check out more hints for making mealtime fun – and for getting those picky eaters to eat healthy. Finally, for when you do make cookies, here's an easy cookie decorating trick to consider.
Follow Hint Mama on Facebook and Twitter, and read more about her and her disclosures.