The school year is now officially underway and odds are school artwork is already starting to pile up in your home, at least it is in my house.
I still have to organize the save-worthy artwork my 5-year-old daughter and 2-year-old son created last year and purge the rest. And the "art drawer" I save the work in is already overflowing, as more creations from this new school year get added in. See the image below.
My system for what to do with the work is pretty simple – I buy a couple of nice Itoya display albums for each child's work and save as much as I can fit. However, I'm always on the lookout for other fun and clever ideas for saving and displaying kids' creations, like turning art into card and placemat designs.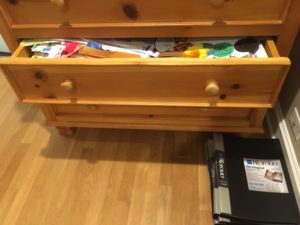 Today's hint is one such clever idea I recently came across that is worth remembering when the holidays roll around: Feature the best-of-the-bunch art on pretty much any item you can imagine beyond notecards and placemats, from t-shirts and beach towels to water bottles and umbrellas. The site CustomInk allows users to do just that in its "design lab" where you can also personalize a host of other items with the work too. CustomInk is giving away a $100 credit to one lucky Hint Mama reader – enter to win below. 
You just scan and upload an image of the artwork you want to feature, and then add it to the item of your choice. Then, voilà, you have a great gift or at least a useful version of your child's art. To be sure, it's much cheaper to just save your little one's artwork in a drawer or album, but items personalized with kids' designs can make great, affordable gifts.
How do you recommend organizing and displaying kids' artwork? Share your tips below, and be sure to enter to win a $100 CustomInk credit.
Follow Hint Mama on Facebook and Twitter, and read more about her and her disclosures.