If you've ever organized a baby shower, you know that it can be hard to come up with the perfect games to entertain your guests.
For the showers I've thrown, which have varied from ladies lunch events to couples' dinners, I've relied on strategies such as copying games played at showers I've been too and haphazard online searches. Because these methods can be hodge podge and time consuming, I've often thought, "wouldn't it be great if there was a tool that could tell me the perfect game for a particular shower style."
Well, it turns out such a tool exists and it's today's hint. The folks at site PersonalCreations.com  reached out to me about their baby shower game generator tool, "Baby Shower Games For Every Crowd."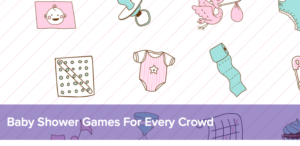 With the tool, shower organizers can narrow down which of 35 shower games is right for their event, using 14 category filters, including whether the game should be appropriate for "gals only" and "couples," and involve keepsakes, ice breakers, guessing, eating or trivia.
"We try to publish useful and entertaining content that would resonate with our readers, who are mostly busy moms or parents" planning parties, birthdays and events, said a spokesperson for PersonalCreations.com, a site specializing in personalized gifts.
Among the 35 games, you'll find popular shower activities like guess-the-tummy size, baby food taste tests and onesie art, plus less well known ones such as a pacifier pass. In fact, pretty much every shower game I've ever played is included, a reason I like the tool.
Looking for more baby shower game inspiration? Check out these 20 baby shower game ideas as well as these 7 useful baby shower activities that can help the guests of honor save money and time. Also, if you're wavering over whether to have a shower or not, here's why to go ahead and have the celebration.
What are your favorite baby shower games and why? What are your tips for finding the perfect shower activities?
Follow Hint Mama on Facebook and Twitter, and read more about her and her disclosures.