Today's hint is a strategy for saving money on devices dedicated to your children's entertainment needs (during restaurant meals, e.g.): Instead of selling your old smart phone back to your cell phone carrier, give it to your kids.
When I recently upgraded to an iPhone 6, my cell phone company offered to pay me roughly $35 or so for my older iPhone. I quickly did the math, and declined the offer. Then, when I got home, I told my kids the old iPhone was for them.
Without cell phone service, the device works great wherever there's WiFi for my little ones' app playing, show watching and music listening needs.
And its free price tag was much more appealing than the couple hundred or more I'd have to shell out for a real iPod touch or iPad, and still more attractive than the $50 cost of a Kindle Fire.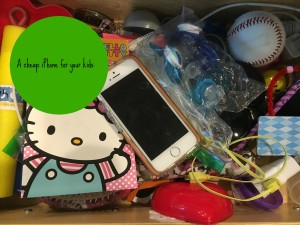 To be sure, this strategy is only cost effective if your carrier isn't offering you a generous deal for your old device. And if you're not a fan of screen time for kids, this tip probably isn't for you. Still, for those of us who believe at least some app play is a good (and even educational) thing, this cost-saving strategy may be worth considering. The only downside I've found: My kids now fight over their phone.
What are your tricks for saving on devices for your children (besides skipping them altogether)?
Follow Hint Mama on Facebook and Twitter, and read more about her and her disclosures.