Paw Patrol. Bubble Guppies. My Little Pony. Those are just some of the decor themes at birthday parties I've attended lately for 4 year olds. But though the characters featured on the plates, cups and napkins differed, there was one common theme at most of these parties: Parents who said the guest of honor wanted to change the theme at the last minute, sometimes meaning the purchase of a whole new set party accessories (if the parents were willing).
Today's hint is a trick for being prepared for these kind of last minute decor-theme struggles while also saving money on birthday party supplies: Go for plain-color party accessories.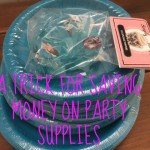 Not only are single-color plates, napkins, forks, spoons, etc. generally cheaper than their cartoon character-decorated counterparts, they're also easily reusable at other parties you host. And these cheaper alternatives don't mean you have to skip a party theme altogether. In fact, they can work with multiple themes.
Case in point: My daughter's party this year will once again be a Frozen-themed one. However, instead of opting for plates, napkins and tablecloths featuring Elsa, Anna and Olaf, I bought less expensive turquoise and purple ones. I figure I can use the leftover blue dining gear at my son's fall birthday party regardless of the theme, and the rest at other events. And my daughter's party will still feel Frozenish, since we'll have an Elsa cake and other Elsa elements thrown in here and there.
What do you think of this trick? What are your tips for saving on party supplies? Share your thoughts below.