Note from Hint Mama: Today's hint is a guest post from one of my favorite personal finance writers, Kimberly Palmer. Check out her tips, and be sure to enter to win a copy of her new book "Smart Mom, Rich Mom: How to Build Wealth While Raising a Family."
When you're a mom, some days it's hard to make it to lunchtime without having to buy something for your child. Whether it's a new tube of sunscreen or a box of their favorite snacks, kids are really good at getting you to spend money.
And when you shop online as much as I do, retailers are very happy to help you with your shopping list. I get dozens of emails a week filled with promotional, easy to click ads, all from stores where I have previously made purchases. Until recently, these emails tended to overwhelm me, and sometimes convince me to buy things I didn't really need. Today's hint is how I've learned to save money by emailing smarter.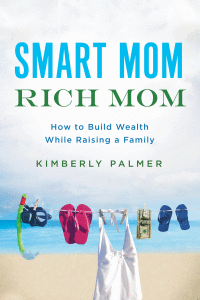 I've since gotten a lot stricter about unsubscribing from emails that I don't really need – or avoiding signing up in the first place. I also use a tool, Unroll.me, to automatically redirect retailer emails into a folder that I review when I have a few down minutes in my day. I also get a daily email containing all those emails I may have missed. (It turns out that I had unknowingly subscribed to over 150 mass email lists!)
In addition to that tool, I also turn more to comparison sites and apps like RetailMeNot, PriceGrabber, RedLaser, and Brad's Deals, which include the best prices from hundreds of stores instead of just one, so I can be sure I'm getting the best deal when I really need to buy something. For online shopping, browser add-ons like PriceBlink or InvisibleHand let you know if another site has a lower price for an item you are about to buy. The difference is that you are the one in control of the timing and not adapting your schedule to the retailers' calendars.
Managing your email inbox might not sound like a money-saving task, but it actually is – because it means your getting deals and discounts on your own terms, when you want them, instead of getting them pushed to you all day long. You're back in the driver's seat – maybe not in terms of what your child wants, but at least in terms of what you're deciding to buy.
Post your best tip for managing retailer emails below for a chance to win a copy of my new book "Smart Mom, Rich Mom: How to Build Wealth While Raising a Family." You can also pick up your own copy, read an excerpt and see the trailer at my website, Kimberly-Palmer.com.
Kimberly Palmer was the senior money editor at US News & World Report for nine years and is the author of "The Economy of You: Discover Your Inner Entrepreneur and Recession-Proof Your Life" (AMACOM). She is also an adjunct professor at American University, where she teaches a course on mastering social media. She lives with her family, including two children, in the Washington, D.C., area. You can find her at kimberly–palmer.com.