If your child is a picky eater, you know how difficult it can be to get kids to eat healthy foods, especially vegetables.
Today's hint is a trick that can help you: Serve your child vegetables in unusual colors, and preferably in colors your little one especially likes.
This trick came to me when I was at the grocery store recently, and saw a bag of baby "rainbow" carrots for sale (by "rainbow," think purple, white, yellow and orange carrots). Since my 3-year-old daughter loves purple (in her words: "purple is my color"), I figured she'd enjoy chomping down on the purple vegetables.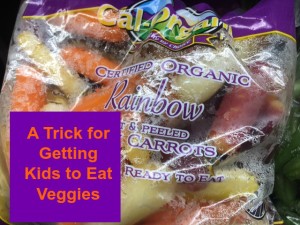 Turns out I was right, and a huge smile came across my daughter's face when I put the purple carrots on her plate, and she happily finished a few of the baby veggies.
Of course, the carrots weren't as cheap as their regular old orange counterparts, and the novelty of the purple color did eventually wear off. Indeed, my daughter has since started asking for "orange carrots" with her dinner. But still, I view the fact that she's now asking for carrots as a success.
For more on encouraging healthy eating, be sure to check out three other ways to get kids to eat veggies as well as these additional vegetable-serving tricks from Hint Mama contributor Laura Grice.
What are you top tips for getting kids to eat their vegetables (and other healthy foods)?