'Tis the season for family photos – and trying to elicit smiles out of little kids. All of us have been there – standing in back of the photographer, making silly faces and noises, trying to get our little ones to smile when "say cheese" just doesn't work. There has to be another way, right?
Enter today's hint, a creative trick for sparking kid smiles that I recently came across at a holiday party. The strategy: Go for a silly smart-phone case that little ones will want to smile at.
The inspiration for this trick is a woman I met at a holiday party who had a tiger iPhone case, which she said she bought so her baby nephew would smile when she took pictures of him with her phone. Her particular case: A Tigger one, available on Amazon.com.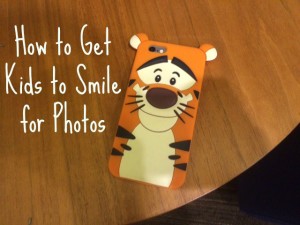 Don't want to carry your phone around all the time in a silly case like that? Well, these cases aren't expensive. The Tigger one runs as low as $3, so you only need deck your phone in it when it's family photo shoot time.
Of course, there's no guarantee this trick will work with your little ones, and if it does work for now, the case's novelty may eventually wear off. Plus, the fun case may encourage kids to mistake your phone for a toy.
When I picked up the Tigger case, which both my 3 year old and 1 year old, gravitated toward, and pointed it at my 1-year-old son, he seemed more fascinated than amused. Still, the aunt who inspired this trick says it works great with her nephew, so it's worth trying as another trick in your arsenal for getting kids to smile.
For more phone-case inspiration, check out hints on the best iPhone case for parents and how to childproof your iPhone.
What's your best tip for getting kids to smile for photos?
Follow Hint Mama on Facebook and Twitter, and read more about her and her disclosures.