It's that time of year again – cold and flu season. If your family is like mine, you and your kids have been battling colds on and off for months, and you've been making repeated trips to the drug store for cold season staples like Children's Tylenol and thermometers.
But did you know that some of these purchases might be unnecessary? While we'll all certainly spare no expense when it comes to our children's health, you may still want to know about the money-saving tips for cold and flu season that make up today's hint.
1. Ask the pharmacist for free oral medicine syringes and droppers. In other words, when you can't find that dropper or syringe to give your little one acetaminophen or ibuprofen, don't buy a whole new package of medicine. Instead, ask the pharmacist at your drug store if they have an extra syringe or dropper they can spare. Since my husband discovered this money-saving trick on a lark, we've never left the pharmacy counter empty-handed.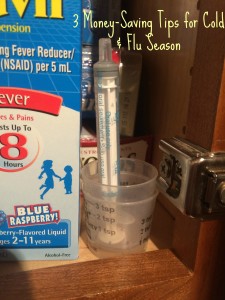 2. Don't get tricked by liquid Tylenol packaging. As Nurse Judy, the advice nurse at Noe Valley Pediatrics in San Francisco, writes on her blog: "For the past several years, the Infant and Children's Tylenol have the same concentration of 160 mg/5ml. The infant bottle comes with a handy syringe for accurate dosing, but there is no other difference." As such, if you already have Children's Tylenol around the house, don't feel that you have to run out and get Infant's Tylenol for your baby, and vice versa. Of course, you'll always want to read a bottle's label before dispensing the medicine, double check dosages and remember that Advil's infant drops and children's liquid aren't the same concentration.
3. Share thermometers with your little one. As I've mentioned before, a special baby thermometer is a waste-of-money baby product. A regular old digital temperature can work to take your temperature and that of your child.
For more cold-and-flu-season parenting tips, check out hints on how to keep track of medicine doses and help the medicine go down.
What's your top tip for saving money during cold-and-flu season?
Follow Hint Mama on Facebook and Twitter, and read more about her and her disclosures.