With the holiday season officially here, there's a good chance wrapping presents is on your to-do list.
But before you head out to the store to increase your wrapping-paper stash, consider that the cost of gift-wrap can ruin your holiday budget. Indeed, according to U.S. News Money, gift-wrapping is one of those hidden costs of the holidays, with Americans spending more than $3 billion annually on wrapping paper and gift bags.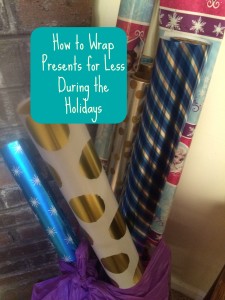 The good news, however, is that there are ways to wrap gifts for less this holiday season, including today's hint: Buy wrapping paper that you can use all year round.
In other words, skip the holiday-specific designs featuring Santa Claus, Christmas Trees, dreidels, menorahs or any other images particular to the winter holidays, and instead opt for more generic looks that will work anytime of the year.
Let's be clear: I'm not saying don't be festive. In fact, the holiday aisles are full of green, red, blue, gold and white designs that you can use the entire year, and that will work great whether you're wrapping a gift for under the Christmas tree or for a child's birthday party. See the images in this post for just a few examples of such versatile designs.
And besides enabling you to get more from your gift-wrapping purchases, this strategy also has another advantage: You're not limited to the wrapping paper designs in stores' Christmas and Hanukkah aisles. So, if the store runs out of holiday-themed wrapping paper, as the Target by my house did two days before Hanukkah, you'll still have plenty of gift wraps to choose from. At least, that's what I've found, and I'm on year two of employing this money-saving strategy.
For more ways to save on holiday gift wrap, check out why tissue paper is a parent's friend and where to find budget-friendly wrapping paper.
What are your tips for wrapping gifts for less?
Follow Hint Mama on Facebook and Twitter, and read more about her and her disclosures.