It's a catch-22. Loveys can help babies sleep better, but babies tend to be the worst sleepers when they're too young to use loveys in their cribs.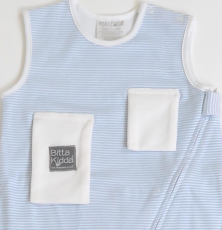 Enter the sleep sack, i.e. wearable blanket, that is today's hint, a new product that all parents of babies need to know about because it solves this conundrum: the Bitta Kidda LovieSack.
The $44 sleep sack, one of those brilliant why-didn't-I-think-of-that solutions, comes with two attached hanging pieces of rectangular fabric that babies can use as loveys (see the images in this post).
I can testify that the swatches do, in fact, serve their intended purpose. I've been testing a LovieSack with my now 11-month-old son for months, and he does rub the lovey pieces when he's trying to fall asleep. In addition, he seems to be looking for them when he's in his other regular sleep sacks.
Since my son and I like the sack so much, I asked Bitta Kidda if they'd give one away to one lucky Hint Mama reader, and they agreed. So, be sure to enter below for your chance to win a LovieSack and share your sleep sack recommendations, tips and tricks below.
A Bitta Kidda LovieSack was provided to me for review. All opinions are my own.
Follow Hint Mama on Facebook and Twitter, and read more about her and her disclosures.