With Halloween around the corner, it's time again to figure out your children's costumes — and probably spend money on them.
According to the National Retail Federation's Halloween Consumer Spending Survey, the average person celebrating this October 31 will spend $74.34, including an average of $27.33 on costumes for the family.
Today's hint is a way to get even more mileage for that money: Opt for a Halloween costume that can be useful way beyond October 31. In other words, instead of shelling out your hard-earned money on a disguise that pretty much only can end up in the dress-up bin, consider one of these seven ideas for costumes that can be used year round.
Hoodies. Regardless of what your child wants to be for Halloween, there's a good chance there's a hoodie for that. Think Teenage Mutant Ninja Turtle hoodies, Batman hoodies, princess hoodies and Olaf hoodies, for instance. Add some leggings and make-up into the mix and you have a proper costume. And the big bonus: the hoodie can go into your child's jacket rotation come Nov. 1.
Pajamas. As I've covered before, pajamas can make great costumes. Many kid pjs come in designs resembling popular Halloween disguises (think skeleton two-piece sets from Carter's and Disney Princess Sofia nightgowns, for example), and the benefit of this option: your child can wear the outfits to bed on Halloween and beyond.
Aprons. If your house is in need of an apron, this costume option is for you. There's no shortage of aprons featuring the bodies of popular characters for dress-up, including the Incredible Hulk, Mickey Mouse and even Elsa.
T-shirts. Meanwhile, if you don't need an apron, it's easy to find t-shirts with similar costume designs. Case in point: this DC Comics Superman option.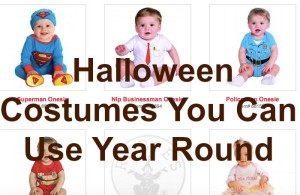 Onesies. For the smaller set, a cute onesie with a costume-like design can be all you need. There's a good chance you can find a onesie design for any baby costume you're envisioning, whether you're going for a police officer or a doctor costume look (check out the onesie options from Rubie's Costume Company). Then, after Halloween proper, such onesies can serve as part of baby's everyday wardrobe.
Pillows. Yes, you read that correctly. There's actually a super hero cape on the market (called SuperME) that doubles as a fleece pillow. And if you're crafty, I love the idea of donut pillows for playrooms that can double as costumes.
Hats. Finally, sometimes all you need to create a costumed look is the perfect hat that can double as cold-weather head gear. Looks range from knit ones (like this Ayliss frog knit hat) to Frozen styles (like this Elsa hat that we have in my house).
What useful costumes would you add to this list? What are your tips for saving money on Halloween costumes?
Follow Hint Mama on Facebook and Twitter, and read more about her and her disclosures.