If you're relying on the pacifier crutch to help your baby sleep through the night, this thought has probably run through your mind: Wouldn't it be great if babies could find their pacifiers on their own in the middle of the night, no crying for mom and dad required?
During our first round at parenting, my daughter's bedtime pacifier dropping and crying-for-baba in the middle of the night is what drove my husband to come up with "the dream paci," i.e. sprinkling at least five pacifiers in the crib before he went to sleep. This time around, however, we've added another trick to our arsenal, and it's today's hint: Glow-in-the-dark pacifiers.
Bear with me if this is old news to you, but it turns out there are a number of pacifiers on the market that are designed to be easier to see in the dark. MAM, for instance, developed its first glow-in-the-dark Night pacifiers in the early 1990s. While the idea behind the pacifiers was to make it easier for parents to find a binky in the dark, the pacifiers also are more visible to older, mobile babies (and toddlers) who have the use of their hands. MAM is giving away a $100 gift package that includes the glow-in-the-dark Night pacifiers to one lucky Hint Mama reader. Details below.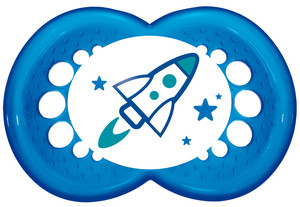 To be sure, easier-to-find pacifiers can lead to more dropping-paci-out-of-the-crib play in the middle of the night. However, at least when it comes to my 10-month-old son, he seems to know to keep at least one glowing pacifier handy. As a result, though our son engages in plenty of pacifier-plop play, we find that he rarely is "baba"-less, and we have to do the "dream paci" less often than we did with our daughter.
For more tips related to pacifiers, be sure to check out hints covering seven tips for breaking the paci habit, how to personalize your child's pacifiers and how to keep the pacifier in baby's mouth.
What's your best hint related to pacifiers? Share it, and be sure to enter to win a $100 MAM gift package, below.
Follow Hint Mama on Facebook and Twitter, and read more about her and her disclosures.