I know there are some moms and dads out there – the ones who populate Instagram with their lunchtime masterpieces – who really love every aspect of the shopping, chopping, picking and packing involved in school lunch prep. Every day. Five days a week. For up to 13 years. I'm not one of them.
In fact, in the past my husband has done the lion's share of lunch packing. But this year I decided to take over lunch duty and also try to avoid buying school lunches. (My school's vegetarian offerings are repetitive and not super healthy. We're also a nut-free school, which poses additional challenges.) My goal? To send my kids to school with a reasonably tasty, healthy lunch that I could assemble, into eco-friendly containers, within my time, skill and budget restrictions.
However, I found my kids' old fabric lunchboxes and numerous plastic containers uninspiring. I pictured lunch from my kids' perspective: opening the lunchbox and seeing a maze of opaque containers. How could they know what was inside? Which one to open first? How to fit them all back in? Not to mention all the little containers and lids my husband and I had to wash each night.
I figured there had to be a better, still environmentally-friendly, way. Then I remembered friends raving about PlanetBox products, the lunchboxes that are today's hint.
PlanetBox products, essentially stainless steel bento-boxes of sorts, are part of the bento lunch trend. But to me, they're unique. As you can see in the images in this post, a PlanetBox lunchbox is like a blank palette that you fill in every day. With their various compartments, these "smart lunchboxes" present a meal holistically, helping you know how many various types of foods, as well as how much of each food, to pack. Not only do they simplify packing a healthy, well-rounded lunch, they also make packing lunch fun.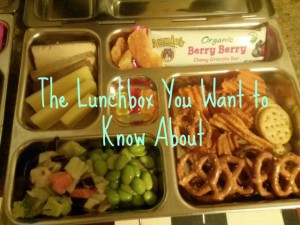 I realized the other morning as I was putting lunch together what making lunch in a PlanetBox lunchbox felt like: It felt like I was creating art. It's not that I'm doing anything special – the most advanced thing I've done is slice apples. (Some parents take it to a whole other level, with egg sculptures, cookie cutter-shaped sandwiches, and lunch themes like "Star Wars" or "Under the Sea". . . but I digress.)
I grab my coffee each morning at 6 a.m., look at my PlanetBox Rover lunchbox, and know I just have to pick one food to start. It might be half of a banana, tuck it into a compartment and I can check "fruit" off my mental list. What about protein? Slice up some baked tofu and into another compartment it goes. Carbs are easily checked off with sweet potato chips, a whole-wheat mini bagel and Earth Balance products. I finish with something sweet for the little square spot in the middle, maybe raisins or Annie's Bunny Grahams.
The colors and shapes all harmonize together, all of the food textures, colors, and types arranged attractively together against a shiny metal backdrop. (For ideas check out the company's "Inspirations" page.). To be sure, these lunchboxes aren't cheap, with the Rover style running about $50 without any accessories. But think of all the money you're saving on plastic bags, as well as all the packing headaches you're avoiding.
In short, this lunchbox makes the mundane beautiful and easy to create. You just fill in the blanks.
What accessories for packing kids' lunches do you recommend and why?
A PlanetBox lunchbox, carrying case and decorative magnets were provided to me for review. All opinions are my own.
Karen Witham is a mother of two children who she can't believe are already ages six and seven. She spends her time on both sides of the Bay, working full-time as an editor and writer in San Francisco and living in Oakland. A transplant from the East Coast, she spent ten years living in Boston and also loves New York and most of all, Paris. Karen has a B.A. from Brown University and an M.A. from Emerson College. Connect with her on Twitter at @kewitham or on LinkedIn. 
Follow Hint Mama on Facebook and Twitter, and read more about her and her disclosures.