Submitting a parenting hint is an automatic entry into every giveaway I host, and I've received quite a few clever hints from giveaway entrants lately. Readers also often share hints on Hint Mama's Facebook page and in posts' comment sections.
So, since it's been a while since I've shared readers' hints, today's hint consists of seven smart hints I've learned from this site's readers (and contributors).
Your local library is a good resource for discounts to local attractions. As one Hint Mama reader wrote, many libraries "have free or discounted passes for a lot of local museums, zoos, events, etc." As she noted, these passes are often available every day and accessible online. "My library's Web site has print on demand for most places, so you can really plan these trips pretty much at the last minute," she wrote. She's right. I checked my local library system's Web site, and there I found an online service called Discover and Go offering these sorts of passes for activities in the San Francisco area.
Wait to clean up the toys. In other words, as one Hint Mama reader wrote, "wait until your child goes to bed to pick up all the toys. If you try to pick up throughout the day, you'll spend the entire day cleaning up. It will make you a very unhappy person." I came to this realization myself sometime last year, when I found myself struggling to put the caps on markers as fast as my then toddler could take them off. Eventually, it hit me that it would be a lot less stressful just to wait.
Consider "the dot method" for labeling your children's clothes. If you have multiple kids and it can be hard to tell whose clothing is whose, or if you need to label your child's clothes for any reason, this tip is for you.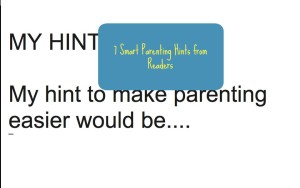 Here's how it works, according to the Hint Mama reader who submitted it: "I use a Sharpie to put one dot on the tags of my oldest child's clothes, two dots on my second child's, and three dots on my third's. It's the simpler, easier version of writing their name, and they can recognize their own clothing at a young age."
An hourglass is a parent's friend. As Hint Mama contributor Karen Witham wrote on Facebook a while back, "get a small hourglass that runs for two minutes and have young kids use it to time their tooth brushing." The hourglass can also come in handy for timing everything from washing hands to sitting at the dinner table. And as I learned from my daughter's preschool teachers, the timer function on your phone can work just as well for implementing this "two-minute rule" (their most frequent use of it: "You can do that activity for two more minutes").
Save your applesauce containers. Add applesauce containers to the list of frugal snack and food bowl alternatives, a list that already includes yogurt containers. Hint Mama reader and daycare owner Leane Priest, who previously noted how coffee filters work great for holding snacks, also uses plastic applesauce containers for her children's morning cereal. These containers can be washed in the dishwasher, she wrote, noting "I also reuse them for homemade applesauce."
Save some Halloween candy for travel entertainment. This hint is courtesy of Hint Mama contributor Leslie Neeland Harvey of Trips With Tykes. She wrote that she saved some Halloween candy to "use as in-flight treats for our daughter for upcoming holiday travel. Don't underestimate the value of a fun size pack of M&Ms at 36,000 feet!"
Don't underestimate the power of contests. When it comes to encouraging young children to help out with chores or do just about any task, this hint is an oldie, but a goodie. As the Hint Mama reader who submitted this hint wrote: "My son is 4 years old right now, so he loves contests. So what I do is we have a race for everything! An eating race, a walking race, a getting dressed race, a putting your plates away race, you get the point. And the winner always gets to shout out a big 'I WIN!!!'" She has found that this approach "works with anything" and she doesn't actually have to compete herself.
What's your best hint to help make parenting easier and or cheaper? What would you add to the list?