There's an old saying that children crave rules. This seems especially to be true for young children trying to make sense of a confusing world, like my 3-year-old daughter and her friends. As AskDrSears.com notes, children around this age "pay more attention to directions and store them in their memory bank as part of their operating code."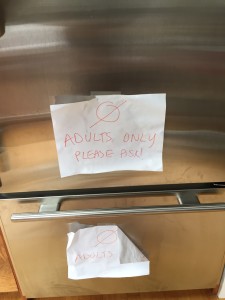 However, even if your little one wants to live in a rules-based world, getting him or her to follow rules is another story. Today's hint is one trick for encouraging young children to live by your acceptable-behavior code: Create signs, in the problem areas of your home, displaying your rules.
I learned this tip from my friends who also have a 3-year-old daughter. Until recently, their daughter would repeatedly open their refrigerator and freezer doors despite them telling her the rule was that only adults could open these doors, and traditional discipline approaches didn't seem to help.
Here's what finally stopped this behavior: They put up signs on their fridge and freezer saying "Adults Only Please Ask," and they explained to their preschooler what the signs said (see the signs in the images above).
Perhaps the written signs helped make the rules seem more official and worth following. But for whatever reason, having the rule in writing and on display seemed to do the trick, even though their daughter can't yet read.
Their little one now generally asks before she opens these doors. This is why making a "no jumping/standing" sign for my couch, and a "please wash your hands" sign for the bathroom, is on my to-do list.
What's your best tip for getting your children to follow your house rules?