One of the most creative and useful gifts my daughter received for her third birthday: An educational placemat featuring the alphabet, the numbers 1 through 10 and various colors.
How a family friend easily made this personalized "activity board" placemat gift is today's hint: She used Shutterfly.
I've long been a fan of using Shutterfly to create photo gifts, like the custom stationery I made my grandmother featuring a photo of her and her great granddaughter or the glass photo collage I made as a Mother's Day gift for my mom.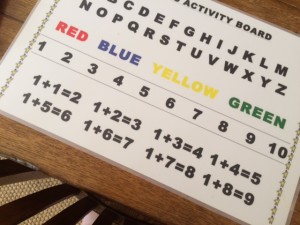 However, I had never thought of using the site to create gifts without photos until my friend gave my daughter the custom placemat, along with a personalized "fairyland" lunch bag from Shutterfly depicting a castle scene. You can see these gifts in the images in this post.
To create the placemat, my friend used Shutterfly's "Upload Your Own Design Placemat" option and designed the activity board from scratch. But for those who want some design help, Shutterfly also offers a host of placemat design templates, including educational ones featuring the ABCs and numbers as well as looks featuring your photos. Note that you can use the photo upload feature to upload more than just traditional photos. For instance, you could upload a picture of your child's artwork to create a custom mat design that is also a unique way to display kid art.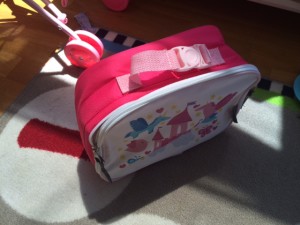 To be sure, these Shutterfly custom placemats aren't cheap, running $14.99 before shipping. By comparison, you can get a set of three educational placemats from Melissa & Doug for about $11. Still, their cost is on par with, or cheaper than, many of the personalized placemat options on other sites like Etsy. And they're a great option to consider if you're looking for a creative gift that will surely be appreciated by the recipient (and his or her parents).
What kind of kids' placemats do you recommend and why? What are your go-to custom gifts?
Follow Hint Mama on Facebook and Twitter, and read more about her and her disclosures.