Mother knows best, including when it comes to creating a homemade bottle brush.
During a recent family trip, when my sister commented that she didn't pack a bottle brush to clean her baby son's bottles, my mother responded with a trick for a frugal DIY "bottle brush" that is today's hint: Use a paper towel and a fork or spoon.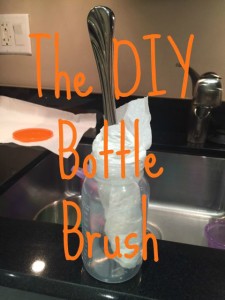 In other words, as my mom suggested, wrap a paper towel around one end of a fork and use that to clean the inside of the bottle. "That's what I always did when I traveled, and it worked just fine," my mom told my sister and me.
My sister tried this homemade bottle brush technique out and said it worked "well enough" and was easier than buying a bottle brush at our destination. "It got a bit soggy, and I had to keep adding more towels, but it was better than nothing!" she told me. You can see her "bottle brush" in the images in this post.
Don't have paper towels handy? Some tissues or a reusable cloth can work well too.
To be sure, bottle brushes aren't expensive (the one I have at home runs about $5), and you can always clean bottles in the dishwasher and skip a brush all together. Still, if you're a bottle brush user, this trick is good to know for your next trip, so you don't need to remember to bring that cleaning tool or make a special shopping trip just to get one. It's also a helpful hint for the next time you misplace your bottle brush at home.
What are your tips for saving money on bottle cleaning and for cleaning bottles on the go?
Follow Hint Mama on Facebook and Twitter, and read more about her and her disclosures.