"Where are the toys?" That's what my 3-year-old daughter asked me soon after we arrived at our hotel room in Florida last week. Before responding, I caught sight of an empty box (leftover from our diaper delivery) and inspiration hit. The easy DIY travel play kitchen I created is today's hint.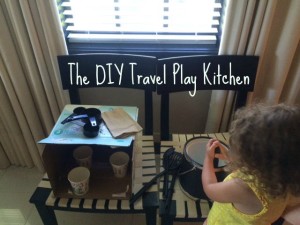 I took two chairs and put them side by side, placed the box on one of the chairs and then filled the play "kitchen" with mixing bowls, measuring cups, an ice bucket, to-go coffee cups and kitchen utensils from our condo-like hotel room's kitchen and minibar area. Voila: Instant toy kitchen.
I told my daughter and her nearly 3-year-old cousin that they could pretend the box was a microwave or a refrigerator, and they instantly got to work cooking, mixing and "baking cookies," activities they repeated many times during the remainder of our stay in the sunshine state.
To be sure, setting up such a play space is easier if you're staying somewhere with a real kitchen and accompanying real kitchen accessories, like a vacation rental. But even if you're in a regular hotel room, mini bar props, like coffee cups, and a box can do the trick.
And if you're crafty, you can get more elaborate with your design. Jen, who blogs at Crappy Crafts, for instance, cleverly transformed a diaper changing pad into a "roll up travel play kitchen."
These sorts of easy DIY toy kitchen projects also don't just work when you travel. You can easily create them in your home if you don't want to shell out big bucks for a ready-made play kitchen.
Looking for more easy travel-toy inspiration? Other free items that can make great destination toys include travel brochures, magazines and plastic cups, and it's worth noting that a toy kitchen is just one of the many uses for boxes during your travels.
What DIY toys have you created during your trips?
Follow Hint Mama on Facebook and Twitter, and read more about her and her disclosures.