The playground birthday party we recently attended seemed like any other at first glance, complete with cupcakes, pizza and lots of small children. There was one big difference, however: There were two guests of honor: Our friends' 3-year-old son and their 1-year-old daughter.
The party was a joint birthday for both children, a strategy for saving on birthday party costs and hassles that's apparently a growing trend and that is today's hint. The basic idea: If your young children have birthdays around the same time of the year, throw one party for both of them.
This strategy typically costs less than two separate parties, assuming you'd have the same general guest list for both events. It also can be a great time saver – you only need to reserve a space, send invitations, buy plates and figure out the food once.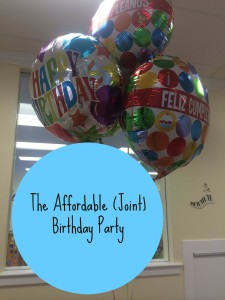 To be sure, this cost-saving approach works best for younger children, who aren't old enough (think under 5) to care that their big party day is a shared one. It's also easier to do if your children's birthdays aren't months apart.
But if your older kids want to have the same type of birthday, it can work too, depending on the kids. Last fall, for instance, Britney Spears threw her two sons (they both have September birthdays) a joint skateboarding themed party.
In addition, there are ways to make joint parties feel special for each of your children, including loads of creative ideas on Pinterest (think a cake layer decorated for each child). Also, you can do your own special celebration for each child on their actual birthday, as blogger FireMom of Stop, Drop and Blog did.
So, if you're looking for ways to cut birthday party costs while still having a celebration, a joint party may be an approach to consider (and of course, if your kids are twins, you'll be having a joint party anyway). For more cheaper birthday party ideas, check out my tips for affordable birthday party activities.
Now, your turn: Joint birthday parties – yea or nay, and why? What are your tips for cutting birthday party costs?
Follow Hint Mama on Facebook and Twitter, and read more about her and her disclosures.