My friends and I often laughingly wonder how we survived a 1970s childhood… no bike helmets, little-to-no safety seating in cars, a steady diet of processed food, minimal supervision and those crazy cement-and-metal playgrounds. We also never washed our hands. I mean really. I don't remember anyone talking about hand-washing, except for maybe a passing mention as something nice to do if you went to the bathroom.
Now, of course, it's a safety-focused world, although some might say the pendulum has swung too far in this direction. But while regular hand-washing does seem pretty sensible, try convincing your preschooler or elementary-school-age kid to take the extra time to do it. As part of waging that ongoing battle, I've come up with a few ways to help instill good hand-washing practices in the under-10 set. These tips make up today's hint.
1. Buy foaming hand soap for every sink in the house that kids might use. I like how the foaming soap spreads more evenly and quickly over hands, and my kids seem to like how it resembles bath bubbles – it feels more "fun." With liquid soap, I'd watch my kids pump way too much into their hands and then almost immediately wash most of it right off down the drain. The foam seems to have more "sticking power." You can also make your own, as blogger Homemade Mommy recommends.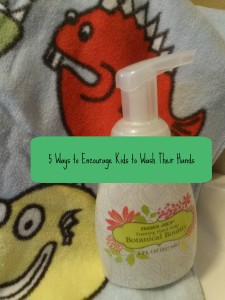 2. Buy scented soaps to help with spot-checks. You can find naturally-scented soaps at Trader Joe's and elsewhere, they don't have to be chemical- and perfume-riddled. My kids know that I'm likely to ask them to "let me smell your hands" to prove that they have washed with soap. It may sound crazy, but it works. My daughter will rush up to me and say "Smell my hands, they smell like the new coconut soap!"
3. Buy fun hand towels. Do whatever it takes to liven up the bathroom and hand-washing experience. We have some fun fish print towels I got at IKEA. I also recommend changing the hand towels often. I've caught my kids wiping noses, chocolatey hands and other madness on clean hand towels. Hey, better than their shirts, right?
4. Show them how you wash your hands. This is the "assume nothing" parenting tip. Remind them that you, in fact, wash your hands throughout the day, too, and here's how. I show my kids how I try to make sure the areas under my nails are clean, and the backs of my hands and between my fingers. You're really teaching your children an important skill, so even though you've been washing your hands for decades, it's still a relatively new thing for the younger kids. Also — don't be afraid to be silly and sing the "Happy Birthday" song while you do it, to show them the right amount of time to wash. In other words, practice what you preach.
5. Make it easy. Do a quick check of the sink(s) your kid(s) uses. Do they have a step stool, if needed? Does the faucet turn on and off easily? Can they reach the soap and hand towel? Is there plenty of soap, and does it come out easily from the dispenser? It really bugs me that so many public restrooms make it so difficult for kids to wash their hands – the least we can do is make hand-washing easy to do at home.
What are your tips for encouraging kids to wash their hands?
Karen Witham is a mother of two children who she can't believe are already ages six and seven. She spends her time on both sides of the Bay, working full-time as an editor and writer in San Francisco and living in Oakland. A transplant from the East Coast, she spent ten years living in Boston and also loves New York and most of all, Paris. Karen has a B.A. from Brown University and an M.A. from Emerson College. Connect with her on Twitter at @kewitham or on LinkedIn. 
Follow Hint Mama on Facebook and Twitter, and read more about her and her disclosures.