As a parent who works full time, I'm always on the lookout for activities to do with my two young children that require little prep on my part, but still are engaging and educational.
That said, there's only so much time my 3-year-old daughter can spend drawing on, and pretend playing with, a cardboard box. This is why my kids and I recently tried out a "crate" from Kiwi Crate Inc.
Not familiar with Kiwi Crate? It's a subscription service, a la Stitch Fix, that will send you monthly boxes ("crates") full of all the materials and inspiration you'll need for a few fun projects you can do with your little ones.
The themes of the activities vary each month, and Kiwi Crate offers crates for different aged children under its various brands: Koala Crate for 3 and 4 year olds, Kiwi Crate for 4 to 8 year olds and Tinker Crate and Doodle Crate for older kids.
The activities in my Koala crate were so simple to implement, and such a hit with my daughter and 8-month-old son, that I wanted to make it easy for other busy parents to try out the service. This is why today's hint is an exclusive Kiwi Crate discount for Hint Mama readers, as well as a giveaway of a $100 credit to Kiwi Crate. See below for more details.
But first, a bit more on my family's experience with our activity box. Our crate's theme was colors. The materials it contained included watercolor paint, crayons, a paper banner, a color cube, a coloring book-type pad and color sheets, along with instructions to help "the Grownup Assistant" (i.e. me) engage my kids in activities using these props. Kiwi Crate creates the Koala crates in partnership with Highlights for Children (remember that magazine from your childhood?).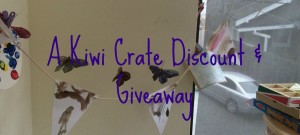 One weekday morning when my children woke up super early and I was looking for ways to engage them beyond turning on yet another television show, I opened up my crate and set up some newspaper on the ground along with the paper banner parts, paints and crayons. Painting the banner kept my 3 year old very engaged, and when we strung the banner and hung it, she seemed very proud. You can see the finished product in the image to the right.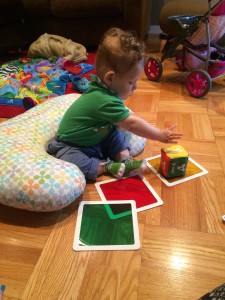 Meanwhile, the soft color cube and color sheets were perfect for my baby to play with, supervised of course. I felt good because the activities were educational – during the half hour or so we spent playing with the crate's contents, I talked about colors and related topics with my kids.
There's also an added bonus: Now we have these items in our home to use going forward for more activities, like the color scavenger hunt and color explorations described in my crate's instruction booklet as well as for regular old watercolor painting and coloring. You can see my children enjoying the Koala crate activities in the images in this post.
To be sure, there are other ways to come up with easy activities beyond getting crates delivered, like apps that tell you activities only requiring materials you already have in your house. For instance, Kiwi Crate's free Kiwi Corner app has this functionality. But, as with the cardboard box, any activities are sure to lose their allure eventually, so a Kiwi Crate box is worth having in your activity arsenal.
Now, onto the discount: Enter the promo code HINTMAMA30 at checkout to receive 30% off the first month of a crate subscription to any of Kiwi Crate's lines. This adds up to roughly $6 off a $19.95-per-month subscription price. The discount, which can't be combined with other offers, is good through 12/31, so you have plenty of time to use it or pass it along to Grandma and Grandpa when you're making your kids' holiday gift wish list. In the meantime, be sure to enter to win a $100 credit to Kiwi Crate Inc. below.
Share your experiences with Kiwi Crate's various brands, and your tips for educational and easy-to-prep activities for kids, below.
Kiwi Crate provided me with a free Koala Crate box to facilitate my review, and I'm a Kiwi Crate affiliate. All opinions expressed are my own. Follow Hint Mama on Facebook and Twitter, and read more about me and my disclosures.