Note from Hint Mama: My son is 8 months old, and from how much he's drooling, it seems as if his first tooth is going to come in any day now. So, soothing a teething baby is top of mind for me, and an added bonus would be if I didn't have to purchase a whole new set of teethers for baby number two. Luckily, I shouldn't need to. Instead, I'll be following the tips below from new Hint Mama contributor Melissa Lawrence, a mom of five children and the co- founder of CloudMom.
When you're breastfeeding, it can be painful when your baby's teeth are starting to come in (as if nursing wasn't already a boot camp for your breasts), and even if you're not nursing, your baby cutting teeth is sure to cut into your sleep time. But between the gum soreness, drool and tears, teething is probably an even more uncomfortable experience for your little one.
After five children of my own, I've had my share of soothing teething babies. Today's hint covers my five tips for frugally easing teething pain, no buying of fancy teething toys required
1. Rub your baby's gums. This might seem counterintuitive at first, but applying pressure to the sensitive gums can actually alleviate some of the pain related to teething. Remember to wash your hands before rubbing your baby's gums or use a clean, moistened piece of gauze.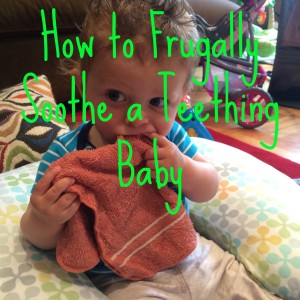 2. Make your own teething toys. Put a damp washcloth in the fridge, then let your baby chew on the cold cloth. Similarly, you can pop pacifiers or chew-worthy regular toys in the fridge (I wouldn't recommend the freezer), and then watch your baby gnaw happily on them. *
3. Change up your child's diet. When my babies were going through teething, I found it particularly helpful to feed them a diet of soft, cool food to help ease their achy gums. Foods like refrigerated yogurt or applesauce are great options. I've also heard that refrigerated peeled carrots are good options too, but, of course, carrots pose a choking threat, so always supervise your children when trying this approach. **
4. Deal with the drool. Some of the classic symptoms of teething are swelling of the cheeks, excessive drooling and a painful rash your baby will get around his or her mouth called a "drool rash". In order to ease the pain of teething, you'll need to keep a cloth handy to dry off your child's chin. Applying a gentle water-based moisturizer can help with the rash, too.
5. Consider over-the-counter options. Acetaminophen, Tylenol, or other pain relievers you already have around the house might just do the trick, when it comes to helping your little one through teething pain. I know many mothers who have used this option when nothing else seems to be working, and especially if their children are fussy at night from teething pain. Of course, it's best to check with your doctor before administering any type of medication for teething.
I hope some of these tips help you and your little one survive teething with minimal pain. Check my video here for more on this painful problem and how both of you can find some relief. After five babies, I can assure you that you both will get through this.
What teething tips did I miss?
Melissa Lawrence, co-founder of CloudMom, lives in New York City with her husband and 5 young children.  With a few parenting tricks up her sleeve, Melissa posts how-to videos and blogs for parents on a range of issues including baby, toddler, kids, fashion, travel, and well-being. Follow Melissa on Facebook, Twitter, YouTube and Instagram.
Follow Hint Mama on Facebook and Twitter, and read more about her and her disclosures.
*Note from Hint Mama: And if you're going to spend money on teether products, consider dual-function items like Chewbeads, which are also jewelry for you. 
**Note from Hint Mama: Lately, I've been letting my son gnaw at my apple cores, though I hold the apple while he sucks on it and supervise him closely.