Since I returned to work after maternity leave, my lunchtime hour has become my workout hour, so I can maximize the hours when I have childcare.
However, as a working mom trying to keep the baby weight off while managing the daily juggle, I'm always looking for ways to better fit exercise into my schedule. Today's hint is two such timesaving exercise hacks.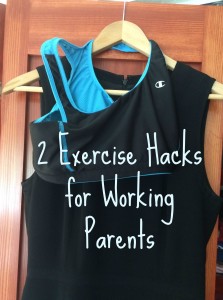 1. Wear your exercise clothes under your work clothes. Earlier this week, as I was changing into my workout clothes for a lunchtime spinning class (I've become a SoulCycle addict lately, as it's a block from my office), I overheard a woman telling her friend how she had changed into her exercise clothes so fast. She had worn her exercise outfit under her work clothes when she left her house in the morning, so all she had to do to get ready for class was take off her work clothes. Brilliant and definitely hint-worthy, I thought, and I plan to steal her trick going forward. It's a great time saver, whether you're working out at lunch or after work.
2. Combine exercising with other tasks from your to-do list. I learned this trick from a senior executive who spoke once at my work about how she does it all. She described how her method for fitting in exercise was to combine it with in-person, catch-up sessions with her friends, i.e. dates for jogs or walks together. But you don't even need to have an in-person workout buddy to employ this trick: Inspired by the senior executive's tip, I'll often call friends to catch up while I'm on a slow jog.
To be sure, there are loads of other ways to make exercise more time effective, including a number of hints I've already covered, like turning playground visits into parent workout time, going on family jogs, turning working out into an activity you can do with your kids and these other exercise tips. Still, these two additional timesaving tricks are worth knowing about too.
What exercise hacks would you add to this list?
Follow Hint Mama on Facebook and Twitter, and read more about her and her disclosures.