Thanks to my friends at VetPronto, a veterinary house call service, for sponsoring this post. All opinions expressed are my own.
Soon after my younger twin brothers were born, my beloved yellow Lab began growling at them, scaring my parents. Before I knew it, my dog "Sandy" was shipped off to a farm (really a farm, my mom swears), and I was devastated.
So to save other big sisters, big brothers, parents and pets from the same grief, I turned to the network of veterinarians working with vet house call service VetPronto. Today's hint is their tip for helping a pet prepare for a new baby, no expensive classes or trainers involved. VetPronto, which currently serves San Francisco, the San Francisco Peninsula and San Jose, and plans to expand to the rest of the Bay Area soon, is offering discounts to Hint Mama readers. Details below.
Besides checking out some online resources offering easy how-tos for helping your pet transition (like these tips over at ASPCA.org for dog owners, and this advice for cat owners), the experts over at VetPronto recommend getting your pet used to the sound of a crying baby.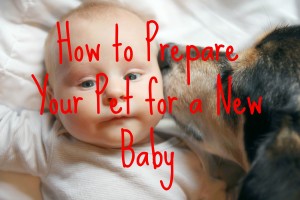 How? A few weeks before your due date, begin playing crying baby sounds at the lowest audible volume (a good album to check out for this is "Baby Sounds for Pets" by Kristen Overdurf-Abud, and you can find loads of free videos of babies crying on YouTube). Then, gradually increase the sounds' volume, until the crying is quite loud. In addition, while the crying is playing, give your pet a treat, whether a special food or a fun toy.
The idea of this approach, according to the VetPronto experts, is to make baby noises tied to good things and not scary.
To be sure, this method is only one part of a broader process you'll need to do to help your pet fully adapt to the new addition, but because it's so simple, it's a great one to have in your arsenal.
What are your tips for frugally preparing a pet for a new baby? Share your tips and be sure to check out VetPronto, which is offering Hint Mama readers a $50 discount on house calls (use the HINTMAMA promo code when you book an appointment) and free access to its "ask a vet" feature.
This is a sponsored post written by Hint Mama on behalf of VetPronto. All opinions expressed are my own. Follow Hint Mama on Facebook and Twitter, and read more about me and my disclosures.