Note from Hint Mama: Summer is the season of ice cream and popsicles, but it doesn't also have to be the season of sugar highs. Hint Mama contributor Caroline Williams, who shares healthy family recipes at her Caroline's Cooking site, provides suggestions below for healthier frozen fare that's also easy to make.
Summer is a great time for getting outdoors and being more active, but it's also the season when there's many a request for sweet frozen treats like ice cream and popsicles.
Today's hint is how to mix up your frozen treat offerings with some healthier, homemade versions. Many of these recipes also work for those with allergies, and they're all easy to make and delicious.
1. Sorbet using naturally sweet fruit. Sorbet is really easy to make, and if you use a naturally sweet fruit like watermelon, then you hardly need any sugar to make a delicious, but still sweet, treat. Here's my recipe for watermelon sorbet.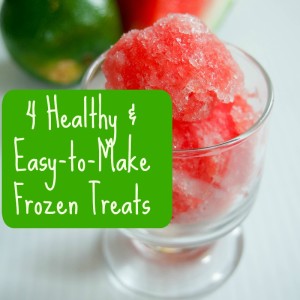 2. Juice popsicles. Making your own popsicles is so easy – all you need is a mould and some fresh fruit juice (orange, apple and pineapple all work well). Pour the juice in the mould and freeze – that's it. You can mix up the flavors a bit by adding fruit purees to the juice; for example, by adding strained raspberry puree to apple juice.
3. Frozen yogurt. Frozen yogurt makes a great alternative to ice cream, as it's that bit healthier while retaining that delicious creaminess. By making your own frozen yogurt, you can keep the sugar down too. Here's a low-sugar, blueberry frozen yogurt recipe that's worth trying.
4. Banana ice cream. While this treat is technically not ice cream, as there's no cream, it's still a great, healthy and dairy-free alternative that's so easy to make. The only ingredient you need: one banana.
What easy-to-make frozen treats did I miss? Share your favorite recipes below.
Caroline Williams lives in Cambridge, Mass., with her husband and toddler son. She fits in developing recipes and managing her blog, Caroline's Cooking, between running around the park and playing trains and other toddler activities. Before she moved to Cambridge, Caroline, originally from Scotland, had another life as a human resources professional in the financial sector. Follow her tasty recipes and tips on Facebook, Twitter and Pinterest, and read more about her here.
Follow Hint Mama on Facebook and Twitter, and read more about her and her disclosures.