The cost of celebrating your baby's first birthday can quickly add up.
According to a BabyCenter.com poll of more than 5,000 parents, roughly 50% of parents polled spent $250 or more on a child's first birthday gathering. But before you cancel that birthday event, consider that there are easy ways to cut the party bill, as I've covered in past hints, including opting for inexpensive party activities and skipping a smash cake.
Today's hint is one more money-saving strategy: Rather than splurge on expensive and elaborate attire for the guest of honor, consider the adorable and affordable first birthday party outfits available from Little Me, one of my favorite baby clothing brands. Little Me is giving away a $100 credit to one lucky Hint Mama reader – details below.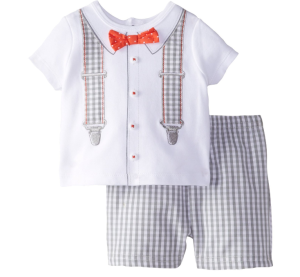 For boys. I'm a huge fan of baby boy styles that resemble grown-up nice attire, complete with shirts sporting fake ties, bow ties and suspenders. Little Me offers a number of these "novelty" styles, including looks that are currently on sale for $10 to $14 like the "Seersucker Novelty Short Set" and the "Suspenders Novelty Pants Set."
Note that such outfits are currently only available up to size 9 months on the Little Me site, so they'll work best for smaller kids. However, it's possible to find similar styles online in bigger sizes, like this "Little Me Baby Boys Newborn Checked Short Set" on Amazon.com (see it in the images above).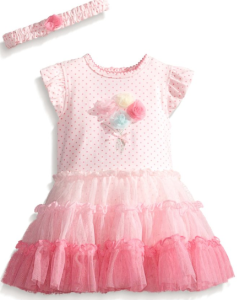 For girls. If you're with me that tulle (think tutu) is all you need to dress-up your daughter's first birthday look, you're in luck. It's possible to find cute tutu outfits from Little Me for under $15, like the "Navy Polka Dot Tunic and Capri Set" currently on sale at Little Me for $14. Elsewhere, on Amazon.com, I came across cute Little Me tutu dresses that come with matching headbands, like this $15 navy and white stripe style and the $25 pink option in the image to the left.
To be sure, there are other ways to save money on first birthday party attire beyond opting for the outfits above, including dressing your little one up in clothes received as gifts or in hand-me-downs. You also can follow the great tips from the experts over at Well Rounded NY for finding budget-friendly designer baby clothes. That said, the outfits above are at least a great starting point for planning what your baby will wear on his or her big day.
What did, or will, your baby wear for his or her first birthday party and why? Share your thoughts, and be sure to enter to win a $100 Little Me credit, below.
Follow Hint Mama on Facebook and Twitter, and read more about her and her disclosures.