With an 8-month-old baby at home who goes through at least half a dozen disposable diapers a day, I'm always on the lookout for ways to cut my diaper bill.
Today's hint is some great deals on diapers I've recently come across, at a few of the sites I'm an affiliate for.
Target.com: Stock up on diapers now at Target.com, and you can get Target.com gift cards in return. The gift card amounts vary depending on the diaper brands and diaper quantities you buy.
For instance, you can get a $15 gift card if you buy two $35 "giant" boxes of Pampers Baby Dry or Huggies Snug & Dry diapers, and you can get gift cards of greater value if you spend more. Here's a link to all of Target's diaper deals. (Hat tip to my friend Gunn who alerted me to these deals).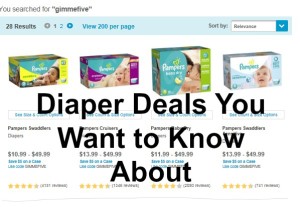 Diapers.com: I'm a regular user of Diapers.com's GIMMEFIVE promotion, which allows me to take $5 off the price of a case of diapers.
Meanwhile, new Diapers.com customers recently could get $10 off a case of diapers with the code HEYMAMA, and in the market for a new stroller? When you buy a select stroller at Diapers.com through July 16, you get a free case of diapers on your next order. The promo code for this deal is FREECASE.
Finally, if you subscribe to Diaper.com's autoship program, you can cut your diaper costs even more.
Amazon.com: Sign up for a 30-day free trial to Amazon Mom, and get 20% off diapers (5% from a Subscribe and Save discount plus a 15% Amazon Mom member discount).
If none of these deals appeal to you, there are other ways to cut your diaper costs, like signing up for diaper brand loyalty programs.
What noteworthy diaper deals did I miss?
Follow Hint Mama on Facebook and Twitter, and read more about her and her disclosures.