For my niece's 5-year-old birthday, my husband and I gave her $40 that she could spend on anything she wanted at Target. Her choice: accessories for her "American Girl" doll. But "American Girl dolls and items aren't available at Target" you're probably thinking?
You're right. My niece's doll was actually an "Our Generation" doll, a frugal alternative to American Girl dolls that is today's hint. In contrast to the 18-inch American Girl dolls' $100 or higher price tags, the "Our Generation" 18-inch dolls can be found in the $20-price range, and there's a whole aisle devoted to them at Target.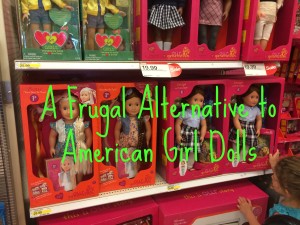 To be sure, cheaper alternatives to American Girl dolls (there are others beyond the Our Generation dolls, as TheKrazyCouponLady.com, Babble.com and the Rookie Moms have pointed out) probably aren't going to be collector's items. They also may not always come with all the same bells and whistles (think not as nice hair) as their real counterparts. Still, for the younger set (those under 8), they're great options to consider, and your little ones may actually prefer them over the real thing.
According to my sister-in-law, my niece knows that her "Our Generation" doll isn't actually an "American Girl." But "she doesn't care. All of her friends have 'Our Generation' dolls because they're $20 at Target," my sister-in-law says.
What if your child already has a real American Girl doll? Then, consider buying "Our Generation" accessories for your American Girl as another money-saving strategy. And if your child must have the real thing, mini American Girl dolls are worth considering – they also come with mini price tags.
What "American Girl" alternatives do you recommend and why? What are your strategies for saving money on the real thing?
Follow Hint Mama on Facebook and Twitter, and read more about her and her disclosures.