Planning a trip this summer with a baby, toddler or young child in tow? Traveling with young kids is so valuable, but not without hassle. Kids require a lot of gear, making it hard to pack light.
Enter today's hint: five hacks for summer travel with young kids. With these travel tips, learn how to repurpose inexpensive ordinary items into the simple solutions you need while on the road, in the air or at your destination with kids.
1. Use a shoe caddy as an instant car entertainment organizer. On long road trips with kids, it's important to have entertainment and snacks at arm's reach for your children, so they aren't asking you for something every two minutes. While there are special organizers designed for cars that hang from the back of the front seats, there is an even cheaper option that you might already have on hand. Use an over-the-door hanging shoe rack instead. Many can be found for under $10. Cut it to the right length to fit, and you'll have an instant road trip organizer.
2. Bring a binder clip or chip clip to secure hotel room shades. Time zone changes when traveling can really mess with your baby or child's sleep schedule. So many things about hotel rooms already aren't conducive to sleep, but it can be especially annoying to find that your room has that gap in the drapes that lets light flood in. There's a simple solution for that. Bring along a few binder clips from the office or a few chip clips from your kitchen back home. Voilà: gap closed!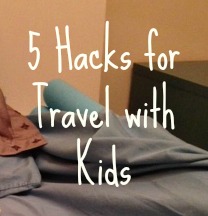 3. No bed rail? No problem! A pool noodle works too. What do you do during your travels when you have a toddler or young child too big for a Pack N Play but not able to sleep in a big bed without falling out? Bringing a large bed rail along isn't very practical. Instead, run to the nearest drug store or supermarket and purchase a pool noodle or two. Put the noodle under the fitted sheet near the side of the bed that isn't protected for an instant and cheap bed rail.
4. Childproof quickly and cheaply with a few simple household items. If you are in a hotel or at grandma's house and find that the destination isn't child-safe, there are a few inexpensive household items you can use to childproof on the fly. Hint Mama sings the praises of blue painters tape for covering outlets. Rubber bands or hair ties can work wonders for keeping kitchen cabinets closed.  Similarly, you can use rubber bands or twist ties from bread bags to tie up long window shade cords that pose a strangulation hazard.
Believe it or not, a pool noodle also works as a bumper along edged glass coffee tables. Use a pocket knife to slice part of the way through the noodle so it slides over the table's edge and then cut off any excess at the ends.
5. Use freezer bags as inexpensive packing cubes. With airline checked bag fees as expensive as they are, packing efficiently and compactly is so important. Packing cubes are a very useful tool for shrinking down the size of your luggage while also keeping things organized, but many of the packing systems are quite expensive.  Zip-top freezer bags are an excellent alternative. Squeeze the air out of them to compress your clothes into a tighter space. They are especially useful for baby clothes to keep the tiny pieces of a single outfit together.
There's no need to let all those bags go to waste either. Reuse them for diaper disposal or to transport wet clothes during your travels. You can even save them for your next trip as they will last for several uses. Finally, be sure to check out how Hint Mama repurposed a cardboard box on her last trip.
What travel-with-kids hacks did I miss? What inexpensive items do you repurpose during your travels?
Hint Mama contributor Leslie Neeland Harvey is an attorney in San Francisco and mom of two kids. She blogs about the joys and challenges of family travel at Trips With Tykes. Visiting scattered family in Alabama, North Carolina, and Connecticut, she and her husband find themselves flying with kids many times a year. Her philosophy: Good planning can make family travel really fun, even if it still involves the occasional in-flight tantrum or battle with TSA agents about shelf-stable milk (it's allowed, folks!). Follow her on Facebook, Twitter, Pinterest, and Instagram.
Follow Hint Mama on Facebook and Twitter, and read more about her and her disclosures.