When you're traveling with the kids, unpacking your children's clothes is a quick way to feel more at home and organized. However, whether you're staying at a hotel room, vacation rental or relative's home, there's a good chance there aren't enough drawers and closets at your destination to hold everyone's clothes.
Today's hint can help. It's to make your own travel dresser out of a cardboard box or two, yet another parenting use for cardboard boxes.
Worried about not having cardboard boxes handy? If you follow my earlier hint to travel lighter by shopping for baby gear ahead of time, you should have plenty of boxes at your destination.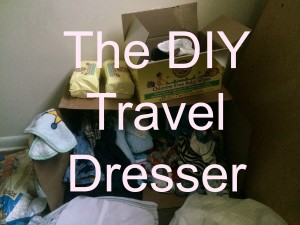 I put today's hint, yet another I learned from my mother, to use during a recent family trip to my in-laws' home. I had ordered diapers, wipes and other baby essentials ahead of time from Diapers.com and had the gear shipped to my mother-in-law's place.
Once I realized there were no empty drawers to be found in the office where my baby son would be sleeping, I set up a cardboard box dresser to hold his little clothes by placing a box on its side (you can see it in the image to the right).
The DIY dresser, along with the diaper changing station I set up, helped make the office feel more like home, and given how many wardrobe changes my son has a day, grabbing the clothes from the box was a lot easier than digging through a suitcase.
What are your tips for organizing little clothes when you're traveling?
Follow Hint Mama on Facebook and Twitter, and read more about her and her disclosures.