It's no secret that companies often price women's personal care products higher than virtually identical products for men, as Consumer Reports reported a while back. According to consumer and money-saving expert Andrea Woroch, this so-called "Pink Tax" price difference can cost women an average of $1,400 more per year.
But does the Pink Tax also apply to baby and kid gear? The answer, as far as I can tell, is it depends. Retailers sometimes charge more for certain colors and designs, but the more expensive prices aren't necessarily for the girlish styles. In fact, it can be just the opposite. In my research, I came across many instances where the more gender-neutral colored item actually came with a higher price tag.
This is why today's hint is a variation of "watch out for the pink tax" for parents: It's to pay attention to color price discrepancies when you're buying items for your children. While there's no pattern, such as pink costing more than blue or vice versa, different colored items often cost different amounts.
On Amazon.com, for instance, prices for Halo SleepSack Swaddles vary by color and design. A pink "jungle line" newborn design recently cost $21.99, while the blue "jungle line" design was $20.49 and the yellow "jungle line" one was $19.99. Meanwhile, the blue "pup pals" design was priced at $22.42 and the pink "cupcake" style was less at $21.99, and the prices are constantly changing depending on when you look.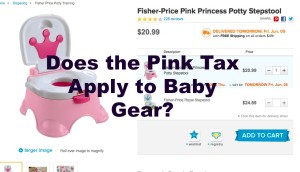 I came across similar price variations by color for everything from bibs and backpacks to toy flip phones and shoes. On Diapers.com, for example, you recently could get a pair of classic Crocs in black on sale for $18.74, while the same pair in navy cost $24.99. Similarly, a pink Fisher-Price Pink Princess potty on Diapers.com was $20.99, while a nearly identical green and blue Fisher-Price Royal potty ran $24.89.
Alan and Denise Fields, the authors of my go-to baby gear buying guide "Baby Bargains," haven't noticed color price differences when it comes to nursery furniture, and with regards to car seats, they say "pink isn't priced more." But they have noticed that car seats in unusual colors, such as orange, can sometimes initially cost more than their more mainstream colored counterparts. According to the Fields, this is because retailers stock less of the unusual designs. But then, when the unusual product or pattern is discontinued, retailers "have trouble giving away the orange, so it goes on a steeper discount for a while," the Fields say.
There likely are logical supply-and-demand reasons such as this behind many of the price differences I noticed. Differing manufacturing and formulation processes, and targeted marketing practices, also can be too blame.
Still, knowing that prices can vary by color can help you save money. If there's no reason why you need a certain colored item, you can simply buy the cheaper hue. Though, of course, even if a gender-neutral colored item costs more, you may be able to use it for longer.
Finally, if you're looking for an interesting read on colored clothes and gender, check out a Smithsonian.com article on the history of when pink started being associated with girls and blue with boys; It actually used to be the reverse.
Have you noticed certain colored baby and kid items priced higher than others? Share your observations below.
Follow Hint Mama on Facebook and Twitter, and read more about her and her disclosures.