Note from Hint Mama: Thanks to the folks at Huggies for sponsoring this post as part of the #UltraHug campaign for the new Walmart Huggies Snug & Dry Ultra Diapers. All opinions expressed are my own.
It's no secret that babies go through lots of diapers, and the cost of disposable diapers can quickly add up. According to the book Baby Bargains, parents on average spend $750 on diapers alone during a baby's first year of life.
But before you abandon disposables for cloth, believing this switch will save you money, consider that there are other easier ways to trim your disposable diaper bill, including the strategy that is today's hint: Join diaper brand loyalty programs.
Like me, you may already have been aware of baby store loyalty programs, but you may not have known that diaper brands have their own rewards programs too. I just recently learned about such programs, which essentially are the frequent flyer programs of the diaper world, when I was checking out the Huggies Web site and came across Huggies' rewards program.
Here's how the Huggies program works: You get 50 points just for signing up, and then you earn different point amounts for different products purchased (you claim the points by entering the 15-letter rewards code on the purchased package). And you also can earn points for performing certain tasks, like providing reviews and inviting friends to join the program. The points you earn can be used for gift cards, free diapers and free wipes, among other items, and members in the program also get additional perks like coupons.
Most other diaper brands have similar programs, and here's an added bonus: A number of the programs offer ways for you to give back too. For instance, you can donate your Huggies points to Huggies' Every Little Bottom program that donates diapers to the National Diaper Bank Network.
So, if you're looking to save money and you've got a spare moment on your hands between diaper changes, consider signing up for these loyalty programs.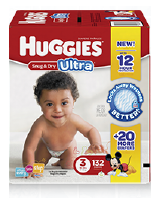 And while you're at it, on a separate note, if you're looking for more ways to give back, consider taking part in Huggies' fun #UltraHug contest to promote the new Walmart Huggies Snug & Dry Ultra Diapers.
For a chance to win a $2,000 grant to a local community project of your choice, snap a selfie with your baby and post it on Twitter or Instagram along with a nomination of a community project you love and the hashtag #UltraHug. On July 6th, voting will begin to narrow down the 20 finalists to 10 winners of a $2,000 grant from Huggies for their nominated community initiative.
You can read more on the #UltraHug contest, and be sure to check out my selfie and my nomination on Twitter and Instagram for the San Francisco Recreation & Parks Department, the organization behind the many local parks, playgrounds, rec centers and affordable classes that my family enjoys daily.
What are your tips for saving money on diapers? What community project did you nominate and why?
Follow Hint Mama on Facebook and Twitter, and read more about her and her disclosures.