Memorial Day weekend, the unofficial start of summer, is here already. So, for today's hint, I've gathered my top hints related to all things summer. Grab your sunglasses and sun hat, relax by the pool or beach, and enjoy the reading below over the holiday weekend.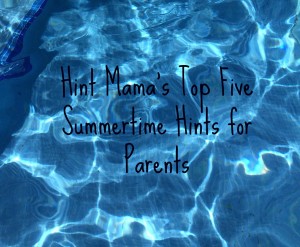 1. How to find the best deals on outdoor toys.
2. How to save on kids' summertime accessories (like hats and sunglasses).
3. How to make easy DIY water tables.
4. A rule of thumb for sunscreen application.
5. How to lessen your poolside stress.
Of course, summer is the season of travel for many, so be sure to also check out my top travel hints. What's your top summertime hint for parents?
Follow Hint Mama on Facebook and Twitter, and read more about her and her disclosures.