When you're trying to lose – or at least not gain – weight, it's important to switch up your exercise routine every so often, so you can continue to see results. This, however, can be a challenge for busy parents who are lucky to fit a 30-minute workout in.
Enter today's hint, which can help. You've probably heard of a mashup, a song that blends two or more tunes. Today's hint is a variation of that concept that I made up: the mashup YouTube workout.
In other words, have two browser tabs open on your computer and have each one set to a different free YouTube workout video. Then, alternate between the two workouts every five minutes or so.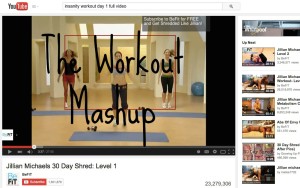 I recently hit on this exercise idea after I'd done Jillian Michaels' 30-Day Shred: Level 1 workout one too many times and felt like it was no longer effective. So, to spice up my YouTube workout video routine, I alternated every five minutes between an Insanity from Beachbody cardio workout and the Jillian Michaels video, simply by hitting pause and switching browser tabs.
This video mashup worked so great for breaking a sweat that I've done it a bunch since, often in the morning before I head off to work.
Where are my kids while I exercise? My older one is still sleeping, while my baby soon seems to enjoy watching me do the Insanity (yes, they're crazy) cardio moves from his tummy-time mat, just one of the ways I fit working out (and losing the baby weight) into my hectic schedule.
Like this workout idea? The video options for your own mashup are numerous. As I've mentioned before, you can find loads of free workout videos – and options for workout mashups – on YouTube.
What are your tips for fitting in effective exercise?
Follow Hint Mama on Facebook and Twitter, and read more about her and her disclosures.