I've covered a lot of tricks lately for encouraging young children to eat right, from giving healthy foods another name to serving smoothies and crunchy-veggie appetizers.
Today's hint is one more approach that I've found works for getting those healthy foods and drinks into your child: Change up the utensil or cup that your little one uses.
In other words, add an element of excitement to a healthy meal by surprising your child with a different eating or drinking accessory. Think training chopsticks instead of a spoon and fork, for instance, or a Dixie cup instead of your tot's usual water bottle.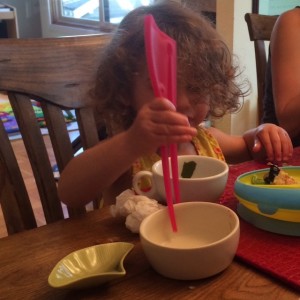 Case in Point: My 2.5-year-old daughter, a big sushi fan, loves using her Munch Stix training chopsticks to try and pick up fruit like strawberries. Then, she'll put the fruit in her mouth with her hand and eat it right up, a parenting win in my book.
In fact, the makers of Munch Stix told me that the firm frequently hears from parents, trying to get their children to eat healthy, who found that the training chopsticks helped make eating a healthy food (like broccoli or blueberries) more fun for their little ones, and more successful.
Similarly, when my daughter is sick and I want her to drink water, she often is reluctant to drink from her usual sippy cups and water bottles. However, if I serve the water in a Dixie cup, she's willing to drink cup after cup.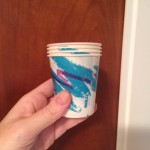 To be sure, a main reason training chopsticks and Dixie cups work in my household is because they're different than what my daughter usually finds by her placemat during mealtime, and we don't make using them a regular thing.
So, to make this trick work, you'll need to be picky about when you bring out the special mealtime accessories, saving them perhaps for meals with that healthy new food you really want your child to eat.
Have you tried this trick? How did it go? What are your tips for encouraging your kids to eat healthy and drink water?
Munch Stix provided samples to me for review. All opinions are my own.
Follow Hint Mama on Facebook and Twitter, and read more about her and her disclosures.