I'm going to brag. Five and a half months after baby #2, I've officially lost the baby weight – all 60 to 70 pounds of it, including the last 10 I never lost between babies.
I'm now back to the weight I was before I was a mom, and my wedding weight feels within reach. So, in honor of this occasion, I present today's hint: my top three tips for getting that baby weight off for good.
1. Enter the "wedding mode" of exercise as soon as you can. If you're like me, you were in the best shape of your life for your wedding. The wedding was a goal that drove you to work out most days of the week and get those pounds off. Well, to get the baby weight off, I've found it's necessary to enter a similar mindset. You need to treat losing the baby weight like you're preparing for your wedding.
In other words, you'll want to have a goal weight and aim to work out five to six days a week as soon as possible after your doctor gives you the okay to exercise. As Lauren Hartmann, who blogs at The Little Things We Do, aptly notes in her great mom.me post on how she lost the baby weight, starting early is key because you'll help keep your body (and your mind) from getting " cozy at its new weight."
2. Know how to fit exercise into your routine. Okay, you're probably wondering: "How is it possible to fit so much working out in, when you have so many other things going on like work and taking care of the kids?" The key is prioritizing exercise (yes, this is one of the reasons I've been posting less frequently around here), and knowing how to cleverly fit it in.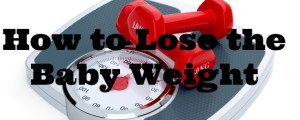 I like to turn working out into an activity to do with the kids. You can have them exercise along with you to a workout video (trust me, kids enjoy this). Or you can turn children's television shows and playground visits into workouts for you. Alternatively, consider taking kids who still ride in strollers on a morning, evening or weekend "family jog;" attending a child-friendly Baby Boot Camp class; or taking advantage of gym babysitting services.
Another trick I learned from a friend with slightly older kids is to maximize the childcare you have for your workday, by working out at lunchtime and then eating lunch at your desk. This is what I've been doing since I went back to work (I'm lucky that there's a Soul Cycle studio a block away from my office).
3. Make small, but effective, changes to your eating habits. Of course, to really lose the weight, it's not just about exercise. You also need to watch what you eat. But this doesn't mean you need to follow a crazy diet. Rather, I've found that just making small changes — like watching portion sizes, changing salad dressings and skipping dairy products — can help with weight loss.
For instance, for breakfast, I now eat a toddler bowl full of dry Cheerios rather than the two full bowls I was eating while pregnant. In addition, I now dress my salads with balsamic vinegar and olive oil rather than the fattening Annie's Goddess dressing I used to use, and I've replaced the cheese I used to put in my salads with avocados. Meanwhile, rather than having chocolate after lunch and dinner, I now have healthier desserts like air-popped popcorn or granola.
To be sure, I've done a couple of these eating tweaks out of necessity – my son seems to be sensitive to dairy and soy, so because I breastfeed, I really can't have cheese in my salad or my old favorite dressing.
But even if you still eat dairy and soy, you can make other small tweaks to get your calorie count down. If you must eat chocolate, for instance, I love this tip from my friend, a super-in-shape mom of twins who got the baby weight off within a couple months: Eat a tiny bit of extremely dark chocolate that is good, but not so good that you want to eat the whole bar (think ginger-flavored dark chocolate, for instance). For other small, but effective tweaks, very loosely following the diet in this book can help.
What tips did I miss? How did you lose the baby weight?
Follow Hint Mama on Facebook and Twitter, and read more about her and her disclosures.