I've long thought bras designed just for hands-free pumping are a waste of money. Why? Any old sports bra with two holes cut in can work just as well as a costly bra with two slits.
However, I recently learned about a new generation of pumping bras that don't fall into the waste-of-money category and that are today's hint: bras that work for both hands-free pumping and nursing.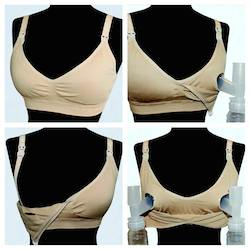 Since I went back to work, I've been testing one of these dual-purpose designs from new bra line BeliBea. The brand's $49.95 Nourish bra has a dual-panel design that allows moms to keep it on for both breastfeeding and pumping. BeliBea is giving away a Nourish bra to one lucky Hint Mama reader – details below.
Essentially, the bra has two cup flaps on each side that clip onto the shoulder straps, outside cup panels resembling a traditional nursing bra and inside cup panels with slits to hold pumping parts. You can see the bra in the images above and to the right.
The bra has simplified things for me greatly. Now, when I need to pump, I no longer need to replace my nursing bra with my old DIY pumping bra (aka my old sports bra). This cuts down the time I spend prepping for pumping. It's also worth noting that the Nourish bra is based on a sports-bra design, so it's pretty comfortable too.
Besides saving time, with such dual designs, moms can avoid having to shell out money on both traditional nursing bras and traditional pumping bras. Meanwhile, for those moms who skipped pumping bras in favor of pumping from nursing bras, dual designs also can be a much better option, as the Rookie Moms have pointed out.
The BeliBea bras can be ordered at the company's Web site, and be sure to follow BeliBea on Twitter and Facebook and enter to win your own Nourish by BeliBea bra below. What nursing and pumping bras do you recommend, and why? What's your favorite pumping tip?
A BeliBea bra was provided to me for review. All opinions are my own.
Follow Hint Mama on Facebook and Twitter, and read more about her and her disclosures.