Note from Hint Mama: Late last year, my husband and I decided we'd take three days and potty train our 2.5-year-old daughter. However, within a couple of hours after we started, our tot was asking for her diaper and we were exhausted. I even ended up with a bad head cold from all the stress. Fast forward two months, and potty training was a cinch. This time, however, our daughter initiated the process by deciding not to wear diapers one Sunday morning. In short, we followed the hint below from Hint Mama contributor Karen Witham, the latest in her series on potty training tips.
When you have a toddler, deciding when and how to start potty training can be all-consuming. (Trust me, as your kids get older you really gain perspective on the many things about infancy and toddlerhood that seem so monumental at the time. Keep this mantra from my mother in mind: "This, too, shall pass.")
Today's hint is that potty training really should happen when your child wants to use the potty, not just when he or she is physically able to use the potty (and not when mom is sick of diapers, when a buddy from daycare is ready, or at the age grandma says that daddy was potty trained…). Starting potty training when your child wants to can make the process a ton easier than it otherwise would be.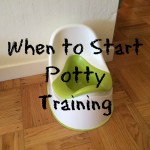 How can you tell when your child may be ready? Well, toddlers can be pretty transparent. Do they fight diaper changes, seem distressed about soiled diapers, take off their diapers a lot, or ask to go without one? Do they seem interested in watching adults in the bathroom? Are they excited about the idea of wearing "big kid" underpants? Try showing them a kids' video about potty training, like Elmo's Potty Time, or reading a book about potty training. Are they interested and engaged? And often times, as Hint Mama points out above, toddlers will literally tell you they're ready.
I draw this hint from my own experience and also from the Montessori educational philosophy. (My kids go to a Montessori elementary school.) Some of the key principles are "independence," "observation," and "follow the child." (You can get more details in this post on Daily Montessori.)
The idea is that potty training is most likely to be successful when your children feel a sense of autonomy — that they are doing it for themselves, not because mommy and daddy want them to. You want your children to feel empowered and proud when they accomplish something —the sort of pride that comes from inside, not from external rewards or praise.
These are tough waters for parents to navigate. There are numerous articles about the problems with overpraising. Yet we want to give positive reinforcement when our child does well.
It can also be difficult to remember that potty training is about them, not you. If you catch yourself scolding your child for "accidents" because you see it as disobedience, or because it's embarrassing, take a deep breath.
Many of us grew up with punitive or strict potty training methods, and so much of what we learn about ourselves as parents comes from examining (or re-living) our own childhoods. I really believe that the more your let your child lead the potty training process, the better off everyone will be. For more on potty training, check out my hints on "7 Ways to Make PottyTraining Easier" and "How to Dress Your Toddler for Potty Training Success."
What are your tips for starting the potty training process?
Karen Witham is a mother of two children who she can't believe are already ages five and seven. She spends her time on both sides of the Bay, working full-time as an editor and writer in San Francisco and living in Oakland. A transplant from the East Coast, she spent ten years living in Boston and also loves New York and most of all, Paris. Karen has a B.A. from Brown University and an M.A. from Emerson College. She blogs at Thoughtstream. Connect with her on Twitter at @kewitham or LinkedIn.
Follow Hint Mama on Facebook and Twitter, and read more about her and her disclosures.