Sleep sacks, a.k.a. zip-up wearable blankets that resemble potato sacks and sleeping bags, are a great solution for babies that are too old for swaddles and too young for regular blankets.
However, most of the designs on the market have one big downside: They're not easily portable. To get your sleeping baby out of the crib and safely into the car seat, you'd need to take him or her out of the traditional sack, likely waking the little one up in the process. Meanwhile, if your baby falls asleep in the car sans sleep sack, you may wake him or her up putting a wearable blanket on during the transition to the crib.
This is why I was so intrigued when I learned about a new, more portable sleep sack that is the subject of today's hint. I first saw the product, called Snappy Pants, at the ABC Kids Expo baby gear trade show in Las Vegas last fall, and I've been trying it out with my baby son for a bit. One lucky Hint Mama reader will win a Snappy Pants, and all readers can get discounts on the sack – details below.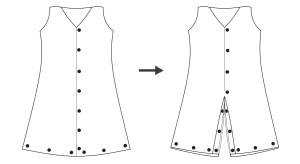 Unlike traditional zip-up sleep sacks, Snappy Pants has a snap design, and it can be snapped into a traditional sack shape or into a jumpsuit shape (think legs rather than a dress, and see the image to the right).
So, if you're planning on transitioning your baby from the car seat to the crib, you can travel with him or her in the jumpsuit design and then simply put your jumpsuit-wearing baby in the crib back at home (or you could snap the jumpsuit into a sack shape back at home).
Or if you're planning on taking your sleeping baby out of the crib and into the car seat, you can dress him or her in the jumpsuit before the crib nap. You also could use the sack shape in the crib, and then resnap the sack into the jumpsuit shape for the car. (Note that babies aren't supposed to sleep for long periods in car seats, and you need to be careful about how much extra fluff you put onto your little one before putting him or her in a car seat.)
Creator Helen Vallaeys says this sort of portability was the idea behind the $39 product. "Fellow moms would tell me how they loved their baby's sleeping bags, but that you can't safely put a child into a car seat or baby swing with it. So I started tinkering and came up with this design," she says.
The jumpsuit design is "thin enough to not add too much bulk" when babies are in car seats. Plus, because it can work as a sleep sack of sorts for the crib and the car, it eliminates the need to buy separate sleep outfits for travel and at-home sleep. "Snappy Pants allows parents to keep their little ones all bundled up while in the car, swing, traveling, and more," says Ms. Vallaeys, the mom of a 16-month-old son.
As for how babies sleep in the design, my 4-month-old son seems to love the comfy feel, and he sleeps great in it in his crib, the swing and the car. In fact, it's currently our go-to sleep sack for his naps.
Finally, it's worth noting that this sack also can have a longer useful lifespan than more traditional zip-up models on the market, because it can work as a jumpsuit during the after-swaddle, before-blanket stage. What are your tips for transitioning sleeping babies from one location to another? What are your favorite sleep sacks and why? Share your thoughts, and enter to win a Snappy Pants sack, below.
Hint Mama readers can get a 20% discount on Snappy Pants, which comes in sizes 0-3, 3-6 and 6-12 months, and free shipping by entering the code hintmama at the Snappy Pants site.
A Snappy Pants was provided to me for review. All opinions are my own.
Follow Hint Mama on Facebook and Twitter, and read more about her and her disclosures.