One of the gifts my daughter received for her first birthday: A Gymboree play parachute.
After the birthday party, I packed the parachute away on a high shelf in my daughter's closet, waiting for the day when I would have a big enough group of kids over at our place to play bouncy balls "popcorn" with the parachute (as I'd seen done at a Gymboree class).
In other words, my limited imagination kept me from putting the parachute to good use over the past year and a half. I've since learned, from the clever friend who gave us the parachute, that play parachutes are great multi-use products. They have many uses beyond being props for bouncy ball-type play.
Today's hint covers six of these additional ways to use parachutes, all of which add up to make parachutes great birthday, holiday and baby gifts.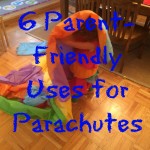 1. Parachutes as picnic blankets. Play parachutes are very large and tend to be machine washable, making them great colorful blankets for outside picnics and lounging. So, instead of buying special dedicated outside blankets, you can consider investing in a multi-use parachute instead.
2. Parachutes as shade providers. With the help of some tools like big sticks, tent stakes, or trees and sturdy rope, you can easily transform a parachute into a tent-like shade provider (think a DIY "shade sail") at the beach or elsewhere. Check out the towel beach tents featured over at Craftionary for some inspiration.
3. Parachutes as fort-building material. As my friend pointed out to me, play parachutes — together with chairs, baby jails or bushes — are great for building play forts. You also can throw them over existing play structures you may have in your yard or at the local playground (as seen in these pictures, for instance) to make easy DIY forts.
4. Parachutes as ride-on toys. Another smart idea from my friend: Use a play parachute to give your child a fun ride on the floor or grass.
5. Parachutes as teaching tools. Bright and vivid, consisting of circle and triangle shapes, parachutes also make great props for teaching your children about colors and shapes.
6. Parachutes as props for many games. Finally, there are many games you can play with parachutes beyond the bouncy ball game I've seen at Gymboree. Check out Nurture Store, Sharin' with Sharron, Teach Preschool, Ministry-to-Children and Messy Kids for easy game ideas.
It's also worth noting that not only are parachutes great multi-use products, they also tend to be relatively inexpensive (you can find a nice and large Pacific Play Tents parachute for around $25). The bottom line: The next time you need to give a birthday, baby or holiday gift, consider buying a play parachute. Just make sure to specify the many uses for the gift in the card.
How have you used play parachutes?