Note from Hint Mama: My son just turned 3 months old, and he's officially no longer a newborn. However, I still wonder what I could have done differently this time around in the early months to ensure that he has healthy sleep habits going forward. To help other parents avoid the same potential mistakes I made, today's hint is a guest post from Nicole Johnson, founder of The Baby Sleep Site, on seven ways to help newborn babies build good sleep habits from the get go.
In addition, I'm giving away 10 copies of The Baby Sleep Site's newborn $8.99 e-book, Essential Keys to Your Newborn's Sleep, as well as a grand prize of one 12-month membership to The Baby Sleep Site (valued at $80; winners can either keep prize for themselves, or gift to a friend/family member).
"Won't the baby just sleep when he/she is tired?"
In my experience, this is the response that many expecting, first-time parents give when a friend or a loved one starts offering sleep advice, or suggesting sleep books. And that's understandable, right?
Baby gets tired. Baby closes eyes. Baby falls asleep. That's how it ought to go.
Except that those of us who have kiddos at home know that sleep decidedly does NOT go like that for many, many babies and toddlers. Sure, some of you may have a champ sleeper, but I'll bet just as many of you can tell your own horror stories about sleepless nights and mini-naps and endless exhaustion and general sleep-deprivation hell.
The truth is, baby sleep isn't nearly so straightforward, for many families. In my experience, many babies need at least a little help from mom and dad to learn how to fall asleep, how to gradually adopt a nap schedule, and how to (eventually) sleep through the night.
For that reason, many new parents, or expectant parents, ask me how they can start establishing healthy sleep habits for their newborns, right from day one. I always love answering that question, because I love it when parents are proactive about their babies' sleep – and I'm thrilled that Jenny has given me the chance to answer that question for you today. Today's hint is seven ways to help your newborn baby build healthy sleep habits right from birth.
1. Keep days bright and nights dark. Many newborns go through a little day/night confusion after birth; you may notice that your newborn sleeps much of the day, and then is up all night. This is completely normal, and your newborn's circadian rhythms (the internal clock that controls sleep/wake cycles) will adjust shortly after birth.
In the meantime, though, feed and nap your baby in a fairly bright room during the day, and keep your baby awake for at least a few minutes after each daytime feeding. In contrast, keep the room very dim during nighttime feeds, and keep diaper changes as quick and as non-disruptive as possible. Once night feedings are done, put your baby straight back to bed – no playtime or activity.
2. Focus on gentle routines, NOT the clock. Newborns are not capable of sticking to a by-the-clock schedule, but that doesn't mean you can't work towards predictability and routine once you bring your little one home from the hospital. One great way to start building healthy sleep habits is to focus on eating and sleeping cycles throughout the day. For example, the Eat-Play-Sleep cycle is a great one for creating healthy sleep habits: feed your baby, keep him awake for a bit of playtime, and then put him down for his next nap (slightly awake, if possible!).
3. Wake your baby from a nap that's going really long. This sounds crazy, I know, but there may be times when you need to wake your newborn from a long daytime nap. If your baby has days and nights mixed up, for example, you don't want her sleeping for 6 straight hours in the middle of the day. In general, if a nap is going longer than 3 or 3.5 hours, and you have concerns that it's going to interfere with nighttime sleep, you may want to wake your baby up.
4. Keep your newborn's wake time relatively short between naps. Newborns need a lot of sleep (A LOT), so be sure to keep your baby's awake time relatively short during the day. From birth to 6 weeks, newborns can only handle about 45 to 60 minutes awake (and keep in mind that includes time spent feeding!). Most newborns generally have the same amount of wake time throughout the day, except for a longer, fussy spell during mid-late evening. Avoid keeping your baby awake much longer than an hour during the day; doing that can make him overtired, which in turn can make it even harder for her to settle and fall asleep.
5. Give your baby a little time (even a few seconds) to self-settle when waking early. This is by no means a must, and if you don't feel comfortable with it, no worries. Just skip this one. But it can be a good idea to give your baby a little bit of time to settle when he wakes early from a nap crying, or wakes shortly after a night feeding.
Keep in mind that not every sound your newborn makes requires your immediate attention; many parents find that if they just wait 10 or 15 seconds after hearing a whimper, their baby has fallen right back to sleep. Now, obviously, you don't want to allow your newborn to really cry – especially not for ANY length of time – but giving your baby even 10 seconds to self-soothe can go a long way towards building healthy sleep habits.
6. Use fixed points for consistency. When your newborn is 4 to 6 weeks old, you may find yourself starting to really crave consistency. One way to achieve that is to slowly build one or two "fixed points" into your baby's schedule. You can do this by waking your newborn for the day within the same 30-minute window of time each day. The first morning nap of the day is another great fixed point. Once your baby is a bit older, and you have an actual bedtime, that can be another good fixed point – try to put your baby down for the night within the same 30-minute time frame.
7. Gradually work toward independent sleep, but only when you and your baby are ready! I want to repeat something that I'm sure you've heard other people say: In the newborn stage, don't obsess about your baby's sleep. Simply focus on caring for your little one (and for yourself!), and squeeze in a few of these tips when you can; doing that is basically a full-time job in those early weeks!
But when you feel ready – and when you think your baby is ready – begin working on fading out sleep associations like rocking or feeding to sleep. For example, if you always rock your baby to sleep, you can gradually fade that out by rocking less and less each night, until eventually you stop the movement while your baby is still awake, and simply hold her until she sleeps. Or if you feed to sleep, you can work toward feeding until your baby is drowsy, then removing the bottle or breast from her mouth, and then just holding her until she falls asleep. The ultimate goal would be to hold your baby just until drowsy, and then lay her down on the sleeping surface while she's still slightly awake.
One last thing I want to say: Remember that sleep will most certainly NOT be perfect in the newborn stage, but that's okay. While it's great to work toward healthy sleep habits right from day one, I would encourage you not to get so wrapped up in it that you miss out on the joy and magic that is your adorable little baby.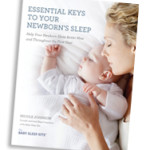 If you're looking for additional guidance on how you can help your newborn build healthy sleep habits – or if you're the friend or family member of someone with a newborn – we'd love for you to download our FREE newborn sleep guide, 15 Things New Parents Should Know About Newborn Sleep.
You'll also definitely want to enter below to win one of 10 copies of The Baby Sleep Site's e-Book, Essential Keys to Your Newborn's Sleep! Essential Keys is THE newborn sleep book that will help you to not only improve your newborn's sleep using gentle, sleep-inducing routines – it will also answer your feeding and newborn care questions. If you win, keep this e-Book for yourself, or gift it to a friend or family member who has a newborn at home, or who's expecting one soon.
And when you enter, you'll also be entered to win our grand prize: a 12-month membership to The Baby Sleep Site's Members Area (the grand-prize winner will receive membership plus one of the 10 e-books). Members of The Baby Sleep Site can enjoy unlimited access to all Baby Sleep Site e-Books, access weekly chats with one of the site's sleep consultants, listen to archived tele-seminars on timely topics, chat with other parents in the site's members-only chat room and receive a 20% discount on any sleep consultation services. The 12-month membership, regularly $79.95, provides parents with ample resources to tackle the wide range of sleep challenges that can crop up as their children grow and develop.
What are your tips for establishing healthy sleep routines from the get go? Share your thoughts, and be sure to enter the giveaway, below. Also, don't miss The Baby Sleep Site's previous hints on surviving the 18-month sleep regression and creating baby and toddler schedules.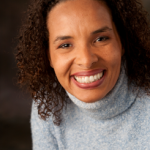 Nicole Johnson is a married mother of two wonderful boys and owner of The Baby Sleep Site. When her eldest son was born, he had a lot of sleep problems – he would wake every one or two hours, all night long! She got busy and thoroughly researched literature and scientific reports until she became an expert in sleep methods, scheduling routines, baby developmental needs, and more. She overcame her son's sleeping issues in a way that matched her own parenting style, and knew it was her mission to help other tired parents "find their child's sleep". If you have your own sleep issues, maybe she can help you, too.
Follow Hint Mama on Facebook and Twitter, and read more about her and her disclosures.