One of the biggest challenges of parenthood is getting your kids to do things they don't like to do but that are good for them. For older kids, eating veggies and brushing teeth come to mind, and for babies, there's tummy time.
With babies sleeping on their backs these days, it's important to give them time on their tummies when they're awake, so they can work their muscles, learn to move and avoid getting flattish heads.
However, if you've ever been the trainer to a tummy time session, you know that it can be an unpleasant experience for babies and parents alike. But it doesn't have to be, and no fancy play gyms are required to make it more pleasant. Today's hint is three hacks for a happier – and cheaper – tummy time.
1. Your body is the best tummy time mat. There are loads of play gym and mat products on the market designed to entertain your baby during tummy time. However, in my experience, put a baby down on his or her belly on any mat, and there's a good chance he or she will be crying within minutes. In contrast, put your baby across your knees or on your chest ("mummy time" as the Rookie Moms call it), and he or she will remain content for much longer and even fall asleep. My children's pediatrician backs this up. During the first four months of life, babies tend to "feel more comfortable when tummy time is on their parents," he told me.
2. Any old blanket can work too. Of course, you can't always do tummy time on your body, especially as babies get bigger and need room to roll and move around. But before you invest in a special tummy time mat, consider that any old blanket, towel or sheet put on the floor can work just as well So, add tummy time prop to the list of ways to repurpose swaddling and receiving blankets.
Sure, blankets and towels don't have toys hanging over them like specially-designed mats do, but you can easily scatter toys around a blanket yourself and babies can get overwhelmed by too many toys anyway. But what if you already bought a tummy time mat? You can make it worth the money by repurposing it into a toddler fort once your little one outgrows the play mat stage.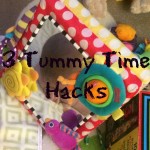 3. Invest in a mirror. Another trick I've learned from putting two kids through tummy time training, and one that moms chatting over at BabyCenter testify works too: Use a mirror as your main tummy time prop. There's just something about mirrors for holding a baby's interest during belly sessions.
Plus, a mirror will likely encourage your baby to hold his or her head up for as long as possible, as pediatric occupational therapist Rachel of CanDo Kiddo notes. If you have a wall or closet mirror, you can set up tummy time in front of it, or you can invest in an inexpensive toy mirror that your kids will still be able to use long past the baby stage (I like this one and this one, both from Sassy).
What are your tricks for making tummy time a more pleasant experience for all? What tummy time products do you think are worth the money?
Follow Hint Mama on Facebook and Twitter, and read more about her and her disclosures.