I have exercise and eating right on the brain. Why? I never lost the last 10 pounds after my first pregnancy, so now that baby number two has arrived, I'm determined to get back to my pre-pregnancy weight.
I'm loosely following my go-to dieting book, "The Extreme Fat Smash Diet," and I'm also employing the three clever tricks for losing the pregnancy (or sympathy) weight that make up today's hint.
1. Don't eat your child's leftovers. I love this tip, which I recently learned from my clever friend (the same one who came up with a creative strategy for baby gift thank you cards). The gist: If you have children at home old enough to eat solid food, especially appealing dishes like chicken fingers, French fries and half-eaten peanut butter and jelly sandwiches, don't eat your kids' leftover food.
My friend says she has been employing this strategy for a couple of months, and it has helped her eliminate lots of extra calories she would have otherwise mindlessly taken in. She learned the trick from one of her friends who lost something like 15 pounds using the approach.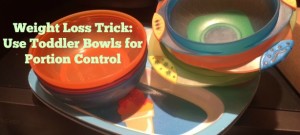 2. Use toddler bowls and plates for portion control. One key part of my diet, and any diet, is watching portion sizes. Recently, as I was looking around for a clean measuring cup, it dawned on me that my 2-year-old daughter's bowls are big enough for just about one cup of food. So, I often now use them instead of my larger adult bowls, when I want to control how much cereal or snacks I'm taking in. And toddler plates (or muffin tins) with dividers can also be great for adult portion control too.
3. Work out with your little one in tow. Exercise is also an important part of any weight-loss plan. However, when you have young children, finding the time and money to work out can be a challenge. But I've found it's a surmountable challenge, if you follow one of the six frugal ways to work out when you have children in tow that I recently covered over at U.S. News Money's The Frugal Shopper blog, where I'm a contributor.
The exercise methods I cover in that post range from ones I've already featured here at Hint Mama (like family jogs and playground workouts) to new ones like taking advantage of trial classes. Here's a link to the full Frugal Shopper post: "6 Frugal Ways to Exercise With Young Kids."
What tips for losing the baby weight did I miss?
Follow Hint Mama on Facebook and Twitter, and read more about her and her disclosures.