Here's a little secret: You don't have to buy special bath toys.
Many regular plastic toys work just fine for bathtub play, even if they're not marketed as tub toys, a money-saving tip that is today's hint.
This tip may seem obvious to some, but boy was I proud of myself when a light bulb went off and this strategy for saving on toys dawned on me back when my kids were toddlers.
Suddenly, Bristle Blocks, Lego Duplos, stacking cups (like these from Ikea), and even random plastic birthday party favors were all fair game for the tub. My Little Pony figures and small plastic dolls could join boats and squeezy toys for sudsy fun. Mini utensils and tea sets from my kids' play kitchen also went into the bath — what better place to have a tea party than the tub?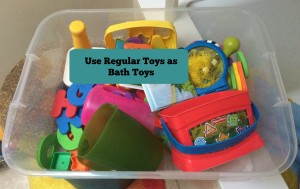 You may even be able to sneak something educational into the mix – I recently had my kids sorting and counting their Counting Bears in the tub, and they loved it.
Don't have plastic toys you want to get wet? Don't despair. Your munchkins may find a simple task like combing their hair, or a doll's, is so much more fun when wet.
And of course, the tub is ripe for recycling, too. Plastic yogurt containers, water bottles, a short length of tubing – anything kids can use to pour and dump water works great in the tub. Safe kitchen utensils – like funnels, colanders, and ladles – also work great for bathtime fun, and read some additional tub toy ideas in this post over at Parent Hacks.
As with any toy, make sure you're mindful of your children's ages and any potential choking hazards – or the chance the toy could slip down the drain and cause a major clog.
Once you think outside the box with tub toys, it can be really fun to surprise your kids with new ideas. And as your kids get older, you'll appreciate having a wider selection of bath-friendly toys. Toy companies pretty much stop marketing "tub toys" once kids are past the toddler stage, but at 5 and 7, my kids still love to play in the tub.
What are your tips for saving on tub toys?
Karen Witham is a mother of two children who she can't believe are already ages five and seven. She spends her time on both sides of the Bay, working full-time as an editor and writer in San Francisco and living in Oakland. A transplant from the East Coast, she spent ten years living in Boston and also loves New York and most of all, Paris. Karen has a B.A. from Brown University and an M.A. from Emerson College. She blogs at Thoughtstream. Connect with her on Twitter at @kewitham or LinkedIn.
Follow Hint Mama on Facebook and Twitter, and read more about her and her disclosures.