Now that January is drawing to a close, the holiday season is officially over. Yet, there's a good chance you still have your holiday cards out on display and cluttering up your house, especially if you're like me and you feel bad about throwing the photo greetings out.
It turns out, though, that there's a way to take down your card display, and even recycle the cards, without feeling bad – a trick for what to do with your old holiday greetings that is today's hint. The tactic: Take a picture of your holiday card display before you dismantle it and save that for posterity rather than the actual cards.
I recently came up with this approach as I admired the holiday card collage I had put together on our fridge. Inspired by the clever technique of recording baby milestones right in monthly baby photos, I snapped a couple pictures of my card collage that I'll save (I plan to put one of these shots into the 2014 family photo book I'll one day get around to making).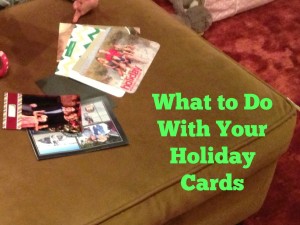 Now, with the images I snapped stored for safe keeping, I don't have to feel bad about taking down the display and giving the cards to my 2-year-old daughter for holiday card play (she still plays with cards from holiday season 2013).
If you don't have a card display that is easily snappable, you still can do a variation of this approach. You can take a photo of each card and save those instead (and as blogger Kimberly Michelle suggests over at Momtastic, the holiday card images make great pictures for your phone contacts).
What do you do with your holiday cards after the holidays are over?
Follow Hint Mama on Facebook and Twitter, and read more about her and her disclosures.