Like most young kids, my daughter loves hanging out in homemade forts. However, forts made out of our couch or dining room table and chairs can leave my husband and me with a big mess to clean up, especially if my 2 year old also enjoys a snack or two in her makeshift shelter.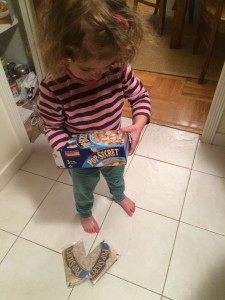 So, recently when my daughter wanted to play "pillow fort" while also eating some Pop Secret microwave popcorn, I hit upon a way to easily make a less messy fort and repurpose a baby product at the same time: I turned our baby gym into a toddler fort, a tip that is today's hint.
Here's how easy the fort was to create: I simply took one of the many baby blankets we have around the house and put it over the arches of my children's Tiny Love Gymini Activity Gym.
Then, my daughter enjoyed crawling through the "tunnel," playing peek-a-boo with the blanket and snacking on her Pop Secret Microwave popcorn and orange juice. In fact, she finished two bowls of the popcorn while hanging out in her fort. (Pop Secret is offering a $1 off coupon to Hint Mama readers – claim it here – and be sure to read on for details about a chance to win more rewards via Pop Secret forts fun).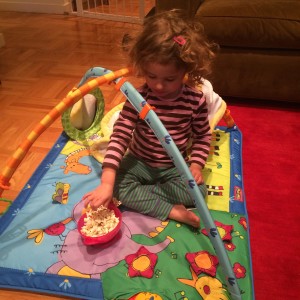 The mat perfectly contained the inevitable crumbs, so clean up was a cinch. All I had to do was put away the blanket, vacuum the crumbs from the mat (or rather, dust bust them) and then wipe down the mat. This was a lot easier than having to put our living room couch, or dining room set-up, back together and also clean our floor.
To be sure, the activity gym fort I made was pretty small, and kids past the baby stage aren't going to fit under the arches when sitting. However, if you want a bigger fort, you can simply put some chairs around a baby gym mat, propping a blanket on them. That way, you'll still get the benefit of the mat containing any snack mess.
How have you repurposed old baby gyms? What are your fort-making hints? Share your hints below, and be sure to claim your $1-off coupon. And for a chance to receive more rewards from Pop Secret, share your pillow fort stories and pictures on Pop Secret's Facebook page with the hashtag #PopSecretForts.
Thanks to Pop Secret for sponsoring today's hint and inspiring me to think creatively about forts.
Follow Hint Mama on Facebook and Twitter, and read more about her and her disclosures.