As I've mentioned before and am embarrassed to admit again, I splurged on a $400 expensive over-the-shoulder diaper bag before I had my first child, only to quickly realize that a backpack is a much more practical diaper bag design.
So my stylish diaper bag went into storage and you can find me these days lugging my son's diaper gear around in a black backpack that has already begun to fall apart.
If I could have a diaper-bag do over, however, I'd opt for the more stylish, relatively inexpensive and extremely functional backpack design that is today's hint – the JJ Cole Backpack. JJ Cole is giving away one of the $79.95 bags to one lucky Hint Mama reader – details below.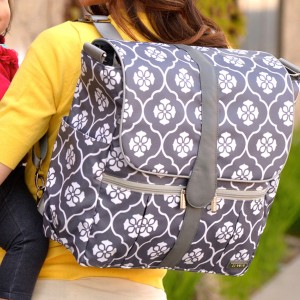 The bags first caught my eye when I saw them on display last fall at the ABC Kids Expo. They're stylish, available in new black & gold, blue iris & heathered colors that make them look much more expensive then they are.
Plus, they're more versatile and functional than regular backpack designs, given that they work as over-the-shoulder bags too, have a flap opening and are the perfect size to work as a laptop, gym or work bag once the diaper days are over.
The bag design, which JJ Cole first launched in fall 2013, also comes with stroller attachments, has many pockets and is made of an easy-to-clean material. And so far, reviews for the bags on Amazon.com are very positive.
What diaper bags do you recommend and why? What are your tips for saving on diaper bags? What are your diaper-bag related hints? Share your thoughts below, and enter to win a JJ Cole Backpack (your choice of color: Black & Gold or Heathered), a $79.95 value.
Follow Hint Mama on Facebook and Twitter, and read more about her and her disclosures.